A 12-acre brush fire sparked by a small plane crash in San Diego's East County is now 100 percent contained, according to Calfire.
Search and rescue crews returned to the scene Sunday but were not able to reach the wreckage. They will try to airlift in on Monday, according to the San Diego Sheriff's Department (SDSO). They believe three people were on board the aircraft when it crashed.
On Friday, deputies located the plane reported missing and believed to have crashed, sparking the fire.
The brush fire in the Ranchita area was first reported to authorities as a possible plane crash on Volcan Mountain around 8:30 p.m. Thursday.
By Friday evening, the burn area had grown to approximately 12 acres east of Warner Springs and west of Borrego Springs. The agency said firefighters had reached 30-percent containment.
By Saturday morning, Calfire reported the fire as 55 percent contained.
By Sunday morning, it was 100 percent contained.
The Sheriff's Department received reports of a plane crash and the Federal Aviation Administration confirms there was a plane reported overdue from the Ramona airport.
At 11:45 a.m. Friday, deputies confirmed finding the wreckage of the plane but said the tail number was illegible so the identity of the aircraft was unknown.
The fire was in a steep, inaccessible area so firefighters were unable to get close enough to determine if it may have been caused by a plane crash as reported, deputies said.
A twin-engine Beechcraft Duchess did not land as scheduled Thursday night, according to Ian Gregor, spokesperson for the FAA Pacific Division.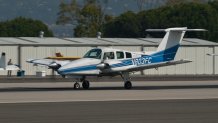 "At some point Search and Rescue is going to accompany FAA up there to gain access to that site but we can't get in there until the fire is controlled and down so we can get to that point," San Diego County Sheriff's Department Lt. Greg Rylaarsdam said.
Rylaarsdam said Cal Fire was hoping to make water drops over the fire Friday but cloud cover prevented it.
Cal Fire said the fire, dubbed the Volcan Fire, was slow-moving and there were no homes nearby that could be in danger.
Images of Ranchita Fire in East County