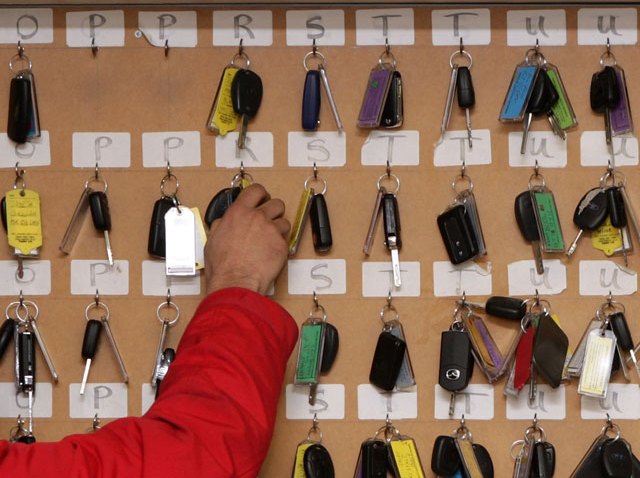 Most of us have used valet services when we go out on the town or stay in a hotel without considering who's driving off in our car. For one San Diegan, the practice of not giving a second look to the valet driver, almost cost him his car.
Jeff Story used a valet on a lunch date with his wife. A man, pretending to be the valet, used his claim ticket to steal his wife's brand new BMW.
"She was just devastated. 'Oh my God,'" Story said. "At the time, I'm thinking, shoot, it's gone."
Most valets are not tied to the restaurants, hotels or the businesses using them. The question is - who has oversight?
One valet business owner calls city of San Diego oversight of the industry "ugly and lax."
In San Diego, there are currently six companies holding permits to operate at 40 public locations.
It's worth knowing what's required of Valet providers. After all, you're turning over a $10 to $80,000 investment for a $5 parking spot. If that doesn't get your attention this might:

"The oversight's been pretty lax," said valet owner Nick Bernal. Bernal has run his valet company for eight years and is critical of his industry.
"The valet service industry is spotty in San Diego," he said. " There's a few companies that do a really good job, and then there's some companies that just fall plain short."
In the city of San Diego, oversight for valet services begins with the traffic engineering department.
"I think it's a shared responsibility between our department, our traffic operations section and the police department," said Gary Pence.
Valet companies using city streets are required to carry a minimum $1 million in liability insurance. They must train their drivers and check driving records. They also must pay $700 for a permit, and then a $300 renewal fee every year.
Valets parking cars on private property are NOT required to have a permit.
Are they keeping up to date?
On a recent Friday night, we asked a couple of valets with Absolute Auto Service to show us their permit. The document they showed us had expired in 2009.
"That's, I think that's something that we would like to look in to, not only for that particular company, but for our overall list of operating companies and probably coordinate with our police department to get some enforcement out there," Pence said.
For Jeff Story, his story has a happy ending. His wife's BMW was found within hours thanks to a GPS alarm system. But it was a lesson learned and now he has a message for anyone using a valet.
"You gotta be careful who you get it from. You gotta make sure they're legit. You gotta make sure they're in uniform, it's a regular company that that's there all the time, not just somebody off the streets. You have to be aware," Story said.
NBCSanDiego repeatedly tried to contact Absolute Auto about their expired permit. They never got back to us.
Finally, read your claim ticket carefully. It limits the liability of the valet companies though one of the valet companies concedes chances are you'll win in court if damage exceeds those limits.