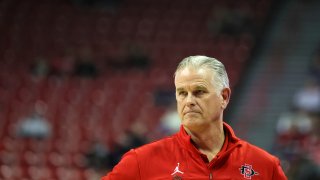 Coming off a 30-point demolition of previously unbeaten Colorado State on Saturday afternoon the Aztecs men's basketball team is back receiving votes in the AP Top-25 Poll.
Matt Bradley was a huge reason for that win, scoring 26 points with seven rebounds while making nearly 60% of his shots. Numbers like that made the senior guard an easy choice for the Mountain West Conference Player of the Week award. Bradley and the 10-3 Aztecs were hoping to roll their momentum into Wednesday night's game at Wyoming.
That's been put on hold.
San Diego State announced on Monday their trip to Laramie will have to be rescheduled due to COVID-19 protocols with the Cowboys program. The last week has been a scheduling roller coaster for the Aztecs.
SDSU had to push last Wednesday's home game against Fresno State to later in the season when the Bulldogs had a COVID-related stoppage. Nevada also experienced a COVID issue. The Wolfpack were supposed to be at Viejas Arena on Saturday but Colorado State filled the spot instead.
They'll try to reschedule all three games but if a date can't be found they'll be declared no-contests, which means there's no forfeit, it's like the games just don't exist.