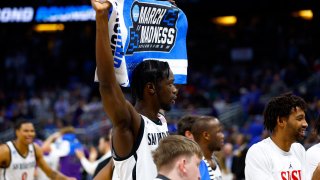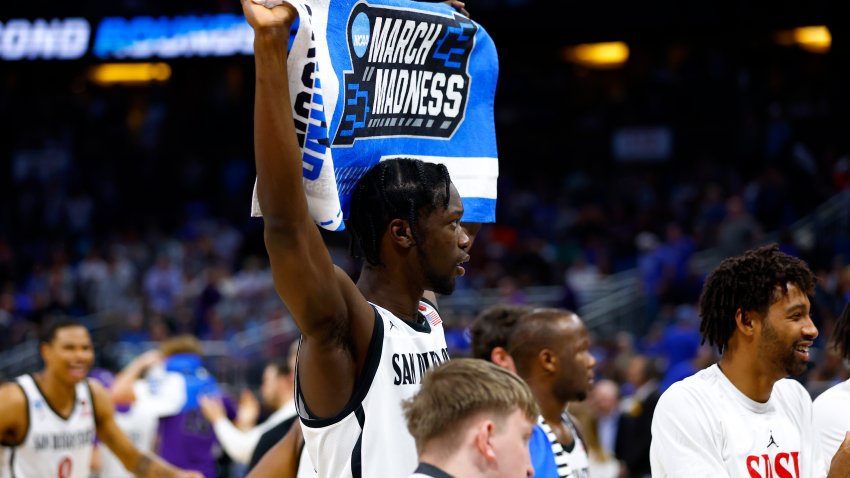 70.
That's the key.
On Friday, San Diego State plays Alabama in the Sweet 16 of the NCAA Tournament. The Bammers are the number one team in the nation and the top overall seed in this year's tournament.
If the Aztecs want to pull off one what would arguably be the biggest win in program history (and we can debate that vs. beating Kansas at Allen Fieldhouse another day) there's one number that stands out and that number is 70. In this case it refers to the number of points SDSU can allow if they want to have a chance to advance to their first Elite Eight in program history.
Here's the evidence:
Sure, we know the Aztecs are a fabulous defensive team. In fact, this year they're 15th in the nation in defensive efficiency (a stat that measures how many points a team allows per opponents possession) and in the first two rounds of March Madness they've been, statistically, the best defensive team in the entire tournament.
San Diego State is 22-2 when holding opponents below the 70-point mark and 7-4 when they let a team break 70. That's a pretty good indicator that if SDSU gets into a shootout they're playing a game that does not suit their strengths. The 70-point plateau, however, also applies to their next opponent.
Alabama is 29-1 when scoring at least 70 points and just 1-4 when held to less than 70. That one loss came in a 100-90 setback against Gonzaga, one of the most potent offensive clubs in the country.
It's safe to say the Aztecs, although they can have nights where they score the basketball well, are not going to put op triple digits any time soon so they are going to have to do what they've done to College of Charleston and Furman: frustrate the daylights out of them and win a grimy, physical game.
Two of Alabama's five losses have come to Tennessee and Connecticut. Those also happen to be two of the other top-15 defensive clubs in the nation so there is precedent here that SDSU's style could be the kryptonite for the nation's top team.
The one thing the Bammers have that the Aztecs don't is an elite scorer. Freshman Brandon Miller has the talent to be a top-5 pick in this year's NBA Draft and averages nearly 20 points a game. But, he's been slowed recently by a groin injury and repeatedly asked questions about whether or not he should be playing at all in this tournament. Miller was allegedly involved in a fatal shooting near campus in January. Police claim Miller brought a former Alabama basketball player Darius Miles a gun and was on scene when Miles used it to kill 23-year-old Jamea Harris (Miller has not been charged in the crime).
Even if he is playing and healthy Miller is going to have a rough game ahead of him. The Aztecs are one of the toughest and most physical teams still playing. With their 9-man rotation SDSU can run multiple big-bodied defenders at him over the course of 40 minutes and force the rest of the Alabama roster to handle the lion's share of the scoring.
70.
That's the key. We'll see on Friday afternoon if it's able to unlock a trip to the South Regional Final for the Aztecs.