The San Diego County Medical Examiner has identified the victim who died after crashing a custom sports car on Christmas Eve.
Barry Alexander Moores, 21, of Rancho Santa Fe died at Scripps La Jolla, according to the ME.
Moores and his passenger, a 21-year-old man from Mira Mesa, were speeding down La Orilla in Rancho Santa Fe on Tuesday, according to the California Highway Patrol. CHP says Moores lost control of the Ariel Atom and slammed head-on into a Ford Expedition.
Moores suffered "multiple blunt force injuries" and "anoxic brain injury," according to the ME. He was pronounced brain dead on Christmas Day but remained on life support so his organs could be donated.
The 62-year-old man driving the Ford Expedition and a female passenger suffered minor to moderate injuries and are expected to be o.k.
There is no update on the other young man's condition.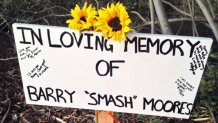 Over the weekend, friends left flowers and messages on a roadside memorial at the crash site. The head of The Bishop's School in La Jolla, Moores' alma mater, released a statement to the school community:
"It is with sadness that I inform you that Barry Moores, a member of the Class of 2011, passed away on December 25 following an automobile accident in Rancho Santa Fe. Barry was in his final year at the University of California at Berkeley," the statement read in part.
A memorial service is planned for Tuesday in Del Mar.
The CHP could not say if alcohol or drugs were involved in the crash. La Orilla between El Camino Real and Rambla De Las Flores was closed for several hours Christmas Eve.
The Ariel Atom is one of the fastest race cars legally allowed on the road. The ME said Moores was wearing a seat belt.