The subtropical storm that drenched the Los Angeles area and prompted evacuations in fire-ravaged communities this week brought nothing more than a few spotty showers to San Diego County.
The storm was expected to bring heavy precipitation to San Diego County Thursday, but aside from some early morning and early evening rainfall in the North County, the system did not bring significant rain to the area.
The National Weather Service (NWS) considered the storm system a disappointment for San Diego County. The system is expected to clear out of the region Friday evening.
Some light showers were keeping the ground damp in the early morning hours Friday, but by about 11 a.m., any chance for lingering showers would diminish, NBC 7 Meteorologist Jodi Kodesh said. Most of the showers were attributed to a thick marine layer as opposed to the subtropical system.
The NWS said from Tuesday morning to Friday morning -- when the bulk of the storm was expected to hit San Diego County -- Bonsall only received .35 inches of rain, Oceanside got .29 inches and Carlsbad received less than a quarter-inch of rain.
On the WEST COAST....moisture is seen streaming in from the Pacific Ocean - here's a view from your #GOESEast satellite this morning. Several inches of rain are expected, which will likely lead to debris flows and flooding! https://t.co/VyWINDk3xP 💧💧💧💧 pic.twitter.com/lkXzEk7pFr

— NWS (@NWS) March 21, 2018
The most significant rainfall fell in the mountains, but it was, even there, less dramatic than predicted. Palomar Mountain received just over three-quarters of an inch of rain while Mount Laguna and Julian got just about .3 inches of rain.
Early predictions estimated coastal areas and inland valleys could have received anywhere from a half-inch to an inch of rain from this storm system, while coastal foothills and mountains could have received as much as two-and-a-half inches of rain, Kodesh said.

By 5 p.m. Thursday, the county had only seen around 30 to 40 percent of the total forecasted rainfall, NBC 7 Meteorologist Dagmar Midcap said.
The system first arrived in San Diego's North County Wednesday, bringing gray storm clouds and some precipitation to the area overnight.
By 6 a.m. Thursday, the roads were wet along Interstate 5 out of Oceanside and Interstate 15 out of Escondido, north of Poway. Kodesh said Ramona, Julian and the foothills were also seeing light, early-morning rain.
By mid-morning, a heavy band of rain was headed for Oceanside, Carlsbad, Vista and Bonsall and light showers began to pick up.
Threats of Flooding in Burn Areas as Rain Moves In
The subtropical storm pushed hot air into the county and increased the size of rain droplets. Kodesh said, because they were subtropical, droplets would be bigger than what San Diegans were used to seeing.
"They're enough to really wet your windshield in a short amount of time," Kodesh explained.
Despite the rain, temperatures were expected to be between 68 and 70 degrees Thursday. It's a mild storm system for San Diego, not a cold one.
The county was under a flash flood watch, especially in fire-scarred areas in North County, due to the heavy precipitation predictions, but the watch was never elevated to a warning.
In North County -- an area ravaged by a 4,100-acre wildfire last December --residents prepped for the storm that didn't come.
The scorched area near the Interstate 15/State Route 76 interchange was particularly susceptible to mudslides because most of the landscape that could prevent them had been destroyed.
Residents in Lilac Fire Zone Prep for Possible Mudslide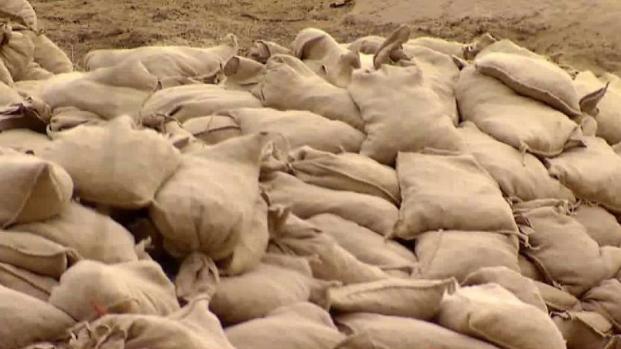 The County Department of Public Works, in partnership with the San Diego County Fire Authority and Cal Fire, provided free sandbags to residents in unincorporated areas, county officials said.
Firefighters worked to protect the area in January but officials told NBC 7 residents should stay diligent. Several residents in the Bonsall area stopped by Fire Station 4 to fill sandbags this week.
Luckily, the light rains caused no damage.
In the Los Angeles area, the same storm system told a different story. Wildfire-ravaged areas were placed under mandatory evacuation as the subtropical system lingered in the region, pounding Santa Barbara, Ventura and Los Angeles counties with heavy rainfall.
The storm was expected to be the heaviest of the season for the Southern California region. By the time the storm moved out of the Los Angeles area, the region was expected to have been hit with five to eight inches of rain.