Friday, 8/25 UPDATE: The San Diego Zoo Safari Park has released video of the tiger cub.
Experts say the cub is a male, about five to six weeks old. He weighs about six pounds. They added all his teeth have not grown in yet and he will be teething over the next few weeks.
The cub's eyes, ears and heart were checked by experts. He appears to be in good health.
_____________________________________________________________
Man Arrested At Border for Attempting to Smuggle Tiger Cub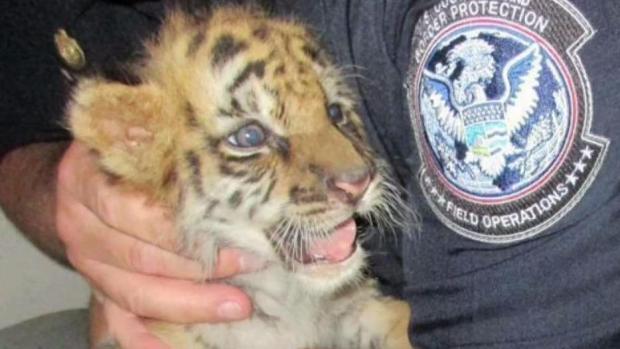 The discovery of a Bengal tiger cub stashed in the back of a car led to an American teenager's arrest at the Otay Mesa Port of Entry Thursday.
U.S. Customs and Border Protection (CBP) officers rescued the illegally-trafficked cub from the traveler, who was bringing the cub from Mexico into California.
Luis Eudoro Valencia of Perris, California, faces federal charges for trying to sneak the exotic animal into the U.S. The 18-year-old told investigators he had arranged to pay $300 for the cub from a man he saw walking a full-sized tiger on a leash in Tijuana.
Around 1:30 a.m., Valencia arrived at the Otay Mesa port of entry, according to CBP. Officers conducted an inspection and then referred the vehicle for a secondary inspection. When they searched Valencia's car, they found a tiger cub lying on the floor of the front passenger side.
They pulled out the cub and placed it in an animal crate until agents from the U.S. Fish & Wildlife Services arrived.
According to a complaint filed with the U.S. District Court, the CBP inspector shone a flashlight and saw the tiger lying between the legs of the backseat passenger.
Tiger Cub Discovered in Man's Car in Illegal Smuggling Attempt: CBP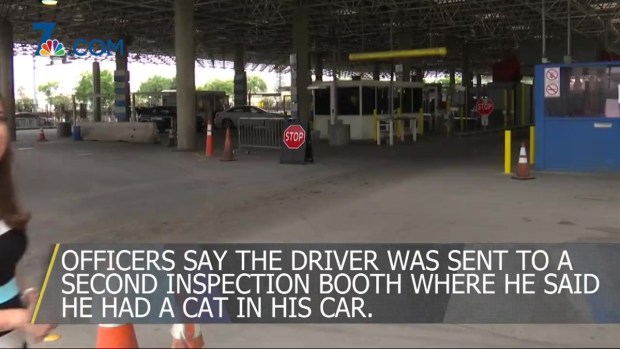 When asked if it was a tiger, the passenger claimed it was just a cat.
He then produced paperwork from AeroMexico Cargo that indicated a Bengal tiger was shipped on Aug. 22.
This included a sales receipt from a Mexican individual that falsely stated the species was not covered by the Convention on International Trade in Endangered Species (CITES), according to the complaint.
The man failed to reveal the tiger cub to officers, according to the U.S. Attorney's office.
He also said he asked the man about the tiger and agreed to purchase a cub on Friday. He returned to Mexico on Monday, waited several hours and drove to meet the individual at a nearby club. From there, they drove to another location where the cub was located.
The complaint states that Valencia said he wanted to take the tiger cub home to keep as a pet.
He denied having any photos of the tiger on his phone. But when officers searched his phone, numerous photos of several tiger cubs were discovered, including the cub he attempted to smuggle and an adult tiger.
Agents said video on the phone revealed a specially-built compartment under his car seat.
The complaint states, "these types of compartments are used to smuggle wildlife."
Valencia, a U.S. citizen, was transported to the Metropolitan Correction Center to await his arraignment.
Agents from U.S Fish & Wildlife Service have the tiger cub in their care, according to CBP. They are working with San Diego Zoo Global to ensure its well-being. The tiger cub appeared to be in good health and is currently at the San Diego Zoo Safari Park in Escondido.
Officials from the U.S. Attorney's office released Valencia on a $10,000 personal surety bond. His preliminary hearing is set for Sept. 5 at 1:30 p.m. before U.S. Magistrate Judge Bernard Skomal.
Tiger Cub Seized at US-Mexico Border
If convicted, he faces a maximum of 20 years in prison and a $250,000 fine or more.
Over 20 years ago, customs agents at the same port intercepted an alleged smuggling attempt to take a tiger cub out of California and into Mexico. That tiger was named "Blanca" and lived out many years at the San Diego Safari Park, said CBP officers.
"CBP officers are often faced with unusual situations," said Pete Flores, director of field operations for CBP in San Diego, in a statement. "The CBP officers at the Otay Mesa port of entry met the challenge head on and assisted in preserving the life of this endangered species."
All species of tigers are considered endangered under the Endangered Species Act, according to the U.S. Attorney's Office. They are protected under Appendix I of the CITES. Legally importing a tiger requires a special permit and declaration, and prosecutors said Valencia lacked both.
Valencia could not be immediately reached for comment and the office of his court-appointed attorney, Robert Schlein, said he has not had a chance to speak to his client.

The Bengal tiger, also known as Panthera tigris tigris, is native to India, Bangladesh, Nepal and Bhutan, according to the U.S. Attorney's office. The World Tiger Recovery Project said there are only 2,500 wild specimens of the tiger left, and its population is decreasing.
According to the complaint, the value of a Bengal tiger cub sold in the U.S. is about $1,500.
The Associated Press contributed to this report.