An after-school assistant in California was arrested after some bizarre behavior, including barricading several students into a classroom, taking off her clothes and upending desks, according San Diego County Sheriff's officials.
At about 4 p.m. Wednesday, Linda Lira, 31, started acting strangely at Lemon Grove Academy and shut herself into a room with students.
After several minutes, the children became scared by her behavior, so they used her campus radio to call for help and alert other teachers.
Staff fought Lira to get inside the classroom and get the children out, sheriff's officials say.
They told authorities Lira showed signs of being on narcotics or a hallucinogen. As she struggled with staff, she took off her clothes.
By the time deputies arrived, Lira had barricaded herself in the classroom again. Deputies say she was throwing things, toppling over desks and putting on and removing her clothes over and over again.
"She wasn't threatening to harm the children, but her behavior was dangerous for those kids to be in the classroom," explained Lt. Christopher May of the San Diego Sheriff's Department. "At one point she actually threw an object through a class window at the fire department, so that was a dangerous situation for the kids to be in."
Law enforcement was eventually able to take Lira into custody, and she was first transported to the hospital for evaluation.
On Thursday, investigators returned to the school and interviewed students to count her offenses. Lira was taken to Las Colinas Woman's Detention Facility on 14 felony counts of child endangerment and 14 felony counts of false imprisonment.
School Assistant Barricades Students
The suspect could not be reached for comment Thursday evening.
The Lemon Grove School District had social workers and therapists at the campus for those affected by the incident. Lemon Grove Academy is a seventh and eighth grade school located at 7885 Golden Avenue.
On Friday, NBC 7 spoke with Lemon Grove School District Superintendent Ernie Anastos about the odd occurrence, which he said happened in a classroom where children attend an after-school homework club. The children in the club are between nine and 11 years old.
"It was unsettling and upsetting for the kids. This happened over a period of 20 to 30 minutes," Anastos said. "The attendant was acting strangely. She started saying things that were unusual and she started acting in a behavior that scared the kids."
"She was saying they don't have to follow the rules anymore. She maybe referenced Satan," Anastos continued. "She was behaving strangely and was clearly not herself."
School Staffer's Bizarre Behavior Scared Kids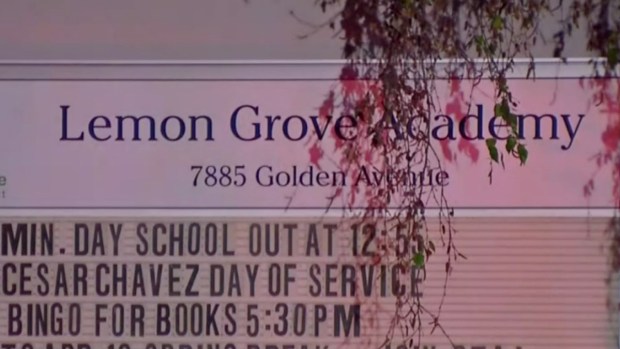 "One of the little boys in the class had the sense to take the walkie-talkie and press the button down so everyone else could hear what was going on. Once that decision was made, everyone arrived on the scene," he added, praising that student's quick thinking.
Anastos said Lira had been working for the school district for two months. He said all staffers, including Lira, undergo an extensive background check before employment that includes a physical exam, drug testing and fingerprinting. Lira was completely cleared through that process, Anastos said.
"What happened in the last couple days is beyond explanation that I might have," he added. "This was unexpected, baffling behavior."
The superintendent said the principal of Lemon Grove Academy met with parents following the incident and all parents of children in the after-school program were given details on what happened in that classroom.
Anastos said the 14 children involved in the incident were doing well on Thursday when they returned to the after-school program.