You've never seenSan Diego soccer leagues like this! VAVi Sport & Social Club runs the only social 11v11 Outdoor Soccer Leagues in all of San Diego - why not play soccer in San Diego with our freshly cut grass or NFL asto-turf fields?
With leagues played throughout San Diego, check out the schedule for Coed or Men's Soccer Leagues, then pick a day that works best for you & join us! Sign up with your Team, as a Small Group or meet new friends and sign up as a Free Agent. Our San Diego soccer leagues consist of 8 regular season games and playoffs.
VAVi additionally provides you and your team with team shirts, with the option of customizing with your team name, number and nickname! You have the post-game hookup playing with VAVi… from a dedicated Sponsor Bar with Food and Drink Specials to giveaways during games, our players get the best. Win your soccer league and receive a great prize - like Miller Lite tabs or bottle service at the hottest clubs downtown!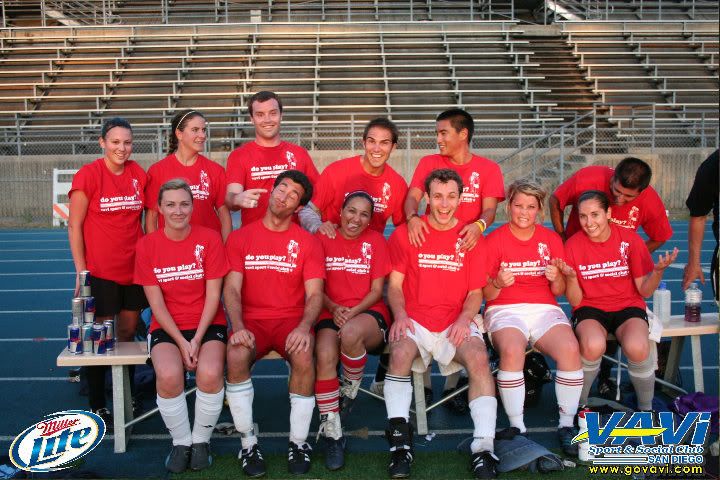 About VAVi Sport & Social Club
VAVi runs over 30 adult sports leagues, post game happy hours, vacations, volunteer opportunities and other social events! There are no membership fees...you just pay for the sports / social events you want to be a part of. With signing up, you are entitled to VAVi-exclusive member benefits!
VAVi, named one of San Diego's fastest growing businesses 3 years running by the San Diego Business Journal, has been recognized as the Outstanding Emerging Business of the Year from the Chamber of Commerce & has won an AMY Award from the American Marketing Association.
Over 37,000 San Diegans have made VAVi part of their lives. Our only question is...do you play?
Want to play in one of VAVi's Soccer Leagues? Click here!
All the San Diego Adult Sports Leagues you could ever want at the click of a button!
Published at 4:41 PM PDT on Aug 17, 2010 | Updated at 2:15 PM PDT on Jul 6, 2011