Whether it was visiting a cemetery to place a rose or stopping by the Midway Museum, many San Diegans spent Memorial Day honoring those who died serving our country.
"It doesn't get easier. It gets harder," said USMC Maj. Aaron J. Brooks who joined volunteers at Rosecrans National Cemetery in placing red roses on the graves of those who have fallen.
At sunrise, more than 100 volunteers walked the cemetery on Point Loma and placed single roses as part of an event sponsored by the Truman Project.
Memorial Day Events in San Diego
Sadly, there were not enough roses to cover every grave marker.
"I didn't realize the scale of this cemetery. It's really quite vast," said volunteer Colin Parent. "It gives you a sense of how many people have lost their lives in service."
Brooks said Memorial Day is an opportunity for civilians to take action and reach out to those who may have lost a friend or family member.
"Help people remember that the people they've lost are not forgotten," Brooks suggested.
Rose by rose, even the littlest of volunteers came out to honor the fallen.
"This is a way that, in a small way, I can honor the people who have given their lives for our country," said volunteer James Lawrence.
Pres. Obama Lays Wreath at Arlington National Cemetery
Later in the day, the county's largest event was held at the cemetery.
David and Johnie Bruner of Lakeside brought their children as David prepares to deploy in the U.S. Army Reserves.
"Teaching them the value of history and what it means to be an American," Bruner said.
They say it's important their children understand what it means to serve their country.
WATCH: Lakeside Family Attends Memorial Day Service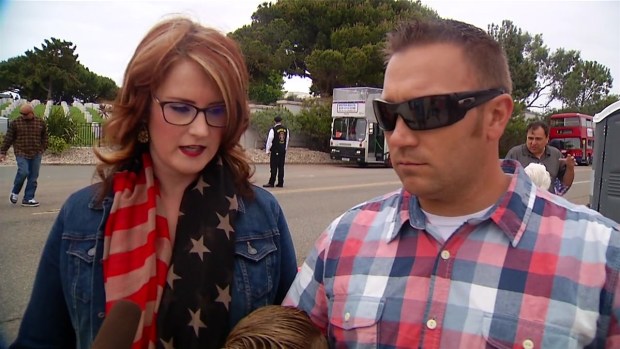 In La Jolla, more than a thousand people gathered at the Mt. Soledad National Veterans Memorial to honor the fallen.
There were veterans from WWII, active-duty military and members of the community present at the event.
NBC 7 spoke to Phil Roosevelt, a family member of former President Theodore Roosevelt, who fought in the Spanish American War.
"He was a big believer in veterans. He felt that the bonds that develop between soldiers, especially soldiers from different backgrounds, those are bonds that last a lifetime and are really the building blocks of American democracy," said Phil Roosevelt.
Veterans, both living and deceased, were honored at the commoration.