Surveillance video capturing a fatal shooting in which a veteran San Diego police officer shot and killed an unarmed, mentally ill man was made public Tuesday, six days after a federal judge ruled it would no longer be under a protective order.
Fridoon Rawshan Nehad, 42, was shot and killed April 30 in a confrontation with San Diego Police Department Officer Neal Browder in San Diego's Midway District. The officer-involved shooting was captured on surveillance video from a nearby business but investigators would not release it to the public while an investigation was underway.
Browder will not face criminal charges in the incident. Nehad's family filed a multimillion-dollar claim against the city of San Diego. The FBI and the U.S. Department of Justice have launched an investigation into the shooting.
District Attorney Bonnie Dumanis, SDPD Chief Shelley Zimmerman and an attorney for Browder argued against releasing the video. Just last week, U.S. District Court Judge William Q. Hayes ruled officials could not block the video's release.
Dumanis on Tuesday released surveillance video showing the moment Browder shot Nehad, along with body camera video from another officer, additional store surveillance footage, enhanced video of Nehad, still frames and a transcript of the dispatch officer communication from before, during and after the shooting.
The unprecedented move by the DA's office was to put the surveillance video in perspective, Dumanis said.
"Viewing the video alone provides an incomplete picture of what happened that night," said Dumanis. "The community should have the ability to weigh the video along with other evidence that provides a complete picture."
Browder, a 27-year veteran police officer, was the first to respond to a 911 call from a business in the Midway area reporting a man with a knife. The shiny object Nehad was holding turned out to be a metallic pen.
According to Dumanis, Browder told investigators he had no doubt Nehad was going to stab him.
His interview is part of the report released by the DA's office.
Browder fired one shot at Nehad, striking him in the chest. Nehad was approximately 17 feet away from the officer. Dumanis stopped one video clip to show movement in Nehad's feet, which she said suggested he was going to continue moving toward the officer when he was struck.
SDPD body cam shows officers attempting to help the wounded Nehad. He was later pronounced dead at a nearby hospital.
Dumanis explained Tuesday why her office did not agree to earlier requests made by NBC 7 and other media outlets to release the surveillance video.
"We had a legal duty not to do anything that could prejudice a jury in a criminal trial," Dumanis said.
All evidence from the SDPD and the DA's office investigation was turned over to the FBI and U.S. Department of Justice, the DA said.
U.S. Attorney Laura Duffy said her office is reviewing the circumstances surrounding the shooting. Duffy said there would be no further comment until the review is finished.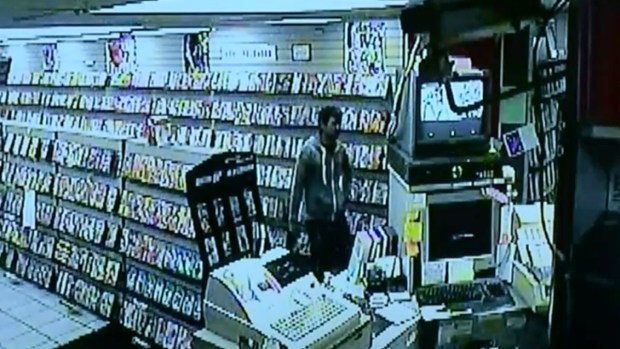 Images: DA Releases Video of Fatal Police Shooting
Among the videos shared at the Tuesday news conference was a store surveillance video clip capturing Nehad prior to the shooting. Dumanis said Nehad can be seen hiding the sheath of a knife in some sandbags stacked behind a business.
WATCH: Fridoon Rawshan Nehad Before Fatal Shooting
As for the pen held by Nehad, Dumanis showed surveillance video where Nehad is seen walking on the street prior to the shooting. He appeared to be spinning a shiny object in his hand. The DA then held up several knives, comparing them to the size and shape of the pen found on Nehad.
An attorney hired by Nehad's family said the video shows the shooting was unprovoked. He criticized the decision to release the video saying the DA must be worried about her decision not to charge Browder.
"This really requires federal intervention. Somebody needs to shine the light on what's going on in San Diego," said attorney Skip Miller.
Read the family's full statement here.
Pen vs Knife: DA Walks Through Midway Shooting Investigation
Chief Zimmerman called the shooting a tragedy for both the Nehad family and Officer Browder. In a prepared statement, the chief said she understood the judge's decision to release the video and would respect the ruling.
An internal affairs review was still ongoing and a citizens review board would likely look at the incident as well, she said.
Zimmerman said she will work with other law enforcement leaders to develop a protocol for how to handle the release of future video-taped incidents. Read the chief's full statement here.
The district attorney said there needs to be a balancing act for video that can help the public understand what happened in an officer-involved shooting and the rights of those involved.
"We clearly need to reevaluate when and how this kind of video is responsibly released," Dumanis said.
DA Explains Release of Fatal SDPD Shooting Video
The San Diego Police Officers Association issued a statement regarding the video's release which said, in part, "video cannot always show the full story, nor does it capture an entire scene."
"The SDPOA has continued concerns regarding the release of evidence in ongoing investigations, as it may jeopardize the rights of both officers and citizens now and in future cases," the union leadership said in a written release.
Nehad had a long struggle with PTSD and was diagnosed with schizophrenia and bipolar disorder. Toxicology test results showed no medications in his system however he had consumed marijuana before his death, officials said.
Family members called police several times in the year before his death, reporting to police that Nehad was suffering manic episodes. His mother and sister say they feared for their safety. The DA's report lists a number of interactions with police ranging from shoplifting and drug-related arrests to committment to local mental health facilities.
An employee of the Hi-Lite Bookstore confronted Nehad on April 30, telling him he could not sleep behind the business. When he called police, the employee said Nehad was carrying a kitchen knife and had threatened him with it, according to the DA's report.
Another witness told investigators that Nehad had attempted to enter a nearby business but was refused. At that point, Nehad pulled a knife out of his pocket and showed it to the witness. This interaction was captured on store surveillance video.
The manager of the Hi-Lite Bookstore told NBC 7 the employee no longer works there. She said her business has suffered since the shooting.
Refresh this page for updates on this breaking news story.