Thousands of San Diego drivers were delayed Wednesday by a line of protesters who stopped traffic on northbound I-5 in La Jolla.
"I am really enraged," said UC San Diego student and Black Student Coalition Chair Jazzalyn Livingston.
The students wanted to shut down the highway to force everyone to pay attention to the recent grand jury decision in Ferguson, Missouri, Livingston said.
"People of color, students of color, often times we don't have a voice," she said."This is our way to demand that ya'll listen."
"I'm Really Enraged:" San Diego Protester
There have been a number of demonstrations in cities across the U.S. after the grand jury decided not to indict Officer Darren Wilson in the shooting death of Michael Brown.
There were approximately two dozen people wearing black blocking four lanes of highway traffic just south of the Nobel Drive exit just before 7 a.m.
They held signs demanding accountability and proclaiming the message "Hands Up Don't Shoot."
As a result, thousands of cars were stuck stopped with the gridlock reaching several miles south to downtown San Diego.
The frustration was apparent as drivers got out of their vehicles and began taking images and video of those holding up traffic. Some took the red cones put up in front of the line of protesters and threw them to the side of the highway.
One man appeared to be screaming and threatening several protesters including one holding a bullhorn. He then wrangled the bullhorn away.
As a motorcycle drove past the protest, the rider held up a fist in solidarity.
California Highway Patrol officers arrived approximately 15 minutes after the protest began and intervened between the group and the drivers who were delayed.
After several minutes, the line of protesters walked to the side of the highway and were escorted to the highway off ramp.
By 7:22 a.m. traffic was flowing again northbound. The group continued their protest along Nobel Drive and traveled toward UC San Diego.
No one was arrested or cited.
Arrests in San Diego Protests Tied to Ferguson Decision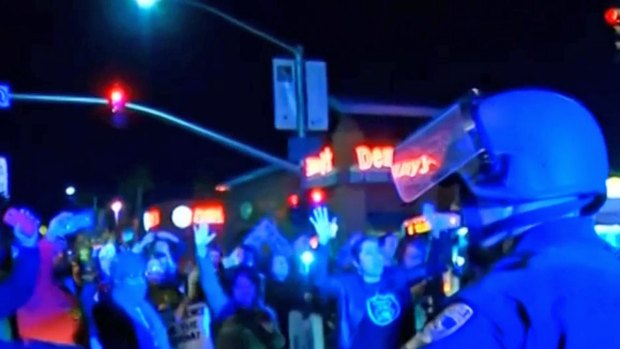 On Tuesday, two separate protests sent hundreds of people onto the streets and onto a freeway and ended in arrests.
A Sig Alert was issued when the demonstrators moved onto Interstate 15 at University Avenue.
In City Heights, the sign for the Jeremy Henwood Memorial Park was obstructed by a banner that read "Michael Brown Memorial Park."
Henwood was an SDPD officer who was gunned down while on duty in 2011.
The park was dedicated in February in the memory of the police officer whose final act of kindness - buying cookies for a child at a nearby fast food restaurant - was shared with millions via social media.
Protests Erupt After Ferguson Decision