Snow in San Diego is a rare sight but a winter storm this week dumped more than a foot of snow on local mountain ranges. If you're planning a weekend day trip, there are a few things you need to know.
For starters, the California Highway Patrol will be enforcing chain control among motorists, meaning tire chains are necessary for drivers heading up to the mountains. The CHP said only vehicles outfitted with chains or four-wheel drive snow-rated tires will be allowed access to the mountains.
With many San Diegans flocking to the snow, heavy traffic is expected and some roads may be closed, depending on how the day unfolds. So, if you're making that drive to the mountains, know it'll take some time to get there. Pack plenty of food and warm clothing.
At 11 a.m., Travis Garrow with the CHP said State Route 79 from Mile Post 5.5 was temporarily closed to State Route 78 in Julian as Caltrans continued trying to clear the road of snow and ice. The agency hoped to plow enough snow off the roadway so two-way traffic could eventually resume.
Garrow said Sunrise Highway was also closed from Mile Post Marker 27.5 to SR-79. Sunrise Highway was open from Olde Highway 80 to Mile Post Marker 27.5, with chain restrictions in place, per the CHP.
Brooke Landau's AM Forecast for February 23, 2019
The road closures lasted about five hours. By 4 p.m., the CHP said SR-79 had reopened, with no restrictions. Sunrise Highway was also open, with no restrictions, from Olde Hwy 80 to Mile Post Marker 27.5.
However, CHP officials said Sunrise Highway was still closed from Mile Post Marker 27.5 north to SR-79.
CHP officials said road conditions were still icy and motorists were warned to use extreme caution, especially in the evening, nighttime and early morning hours "due to the melt-off and freezing on the roadways and over-crossings."
Before Saturday's road closures, a few cars were able to reach Cuyamaca Rancho State Park before the closure of SR-79 Saturday. Families got out of their cars and played at the snowy site, which is located about 15 miles south of Julian.
One of the lucky ones was Mike Clegg, of Blossom Valley.
"We decided to bring the kids up early this morning and beat the crowds," Clegg told NBC 7. "Luckily, we did, otherwise no one else gets to come up the mountain, apparently."
Clegg said his kids were having a ball in the snow. He couldn't wait for nap time.
"They'll sled until we're good, and wet, and tired, and we'll go have some lunch and head home," he added.
National City resident Alex Ocampo made it to Pine Valley Saturday to enjoy the winter weather.
"I just like coming out in the season and have some fun," Ocampo told NBC 7. "And one day I want to go back to Chicago – to the snow – so this kind of reminds me of it, so it's pretty cool."
Sisters Melania and Sophia Contreras, ages 11 and 9, respectively, got to play in the snow with their family.
"We were excited, already planning what we were going to do the whole day," Melania said. "Yeah, it's pretty fun outside."
"We have been sledding, and then we tried to do a snowman," Sophia added. "It's like a 10 out of 10."
Another reminder if heading to the mountains: practice good snow etiquette when heading to popular areas like Julian, Pine Valley, and Mount Laguna.
The CHP said visitors should park only where legally allowed; don't park on private property and don't block roadway access for emergency vehicles. Not following these rules could lead to citations.
There are limited restroom facilities in San Diego's mountain area, so plan for bathroom breaks accordingly. Trash bins are also limited in these areas, so anything you bring in, take back out when you leave.
It's a chilly morning out there. But it will be a much milder day today so just enjoy your day! #cawxpic.twitter.com/v6McE99tAv

— NWS San Diego (@NWSSanDiego) February 23, 2019
The roadways leading to San Diego's mountains may still be icy and slippery. Drivers need to slow down and remain alert to avoid accidents. Motorists should also obey all posted traffic signs including any road closures that might arise after officials inspect current conditions.
Driving Conditions Still Dangerous After Mountain Snow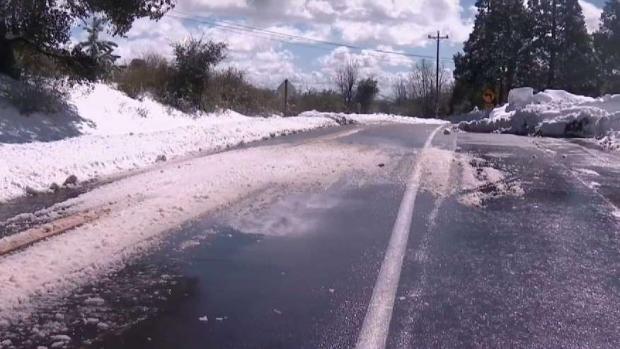 On Thursday and into part of Friday, a stretch of Interstate 8 – from State Route 79 to E. Willows Road – was closed in both directions due to a layer of "black ice" and snow that caused several cars to spin out. The closure left several drivers stranded on the roadway overnight.
Caltrans used snow plows to dig through the layer of ice and, by 9:30 a.m. Friday, the highway had reopened.
Another Round of Snow for San Diego's Mountains
According to NBC 7's First Alert Forecast, the weekend will be dry and sunny, but cool temperatures will linger. NBC 7's Brooke Landau said Saturday's forecast showed Julian at around 45 degrees and Pine Valley at 48 degrees.
This week's storm system unloaded more than 20 inches of snow on Mount Laguna, more than 14 inches in Julian and Palomar Mountain and more than six inches in Pine Valley. Those snowfall totals were expected to mount even higher once Friday's overnight snow was accounted for. Snow was expected to be recorded at elevations as low as 2,000 feet – something San Diegans certainly don't see every day.