San Diego police officers launched a search Friday for two suspects that allegedly tased an armored services employee at Fashion Valley Mall and then took off with a bag of stolen money.
Authorities said the incident happened at around 3 p.m. on the ground floor of the mall in Mission Valley, near the movie theater.
According to SDPD Lt. Paul Connelly, an employee with Dunbar Armored service was walking toward his company truck, leaving the mall with a bag of money, when two unknown men approached him and tased him on the back.
The armored truck guard fell to the ground, dropping the bag of money. Connelly said the suspects quickly snatched the bag and took off running.
Police said they're not sure how much money was in the stolen bag.
Officers set up a perimeter at the south side of the mall and searched for the suspects, thoroughly checking parking structures. As of 4 p.m., the men remained at large.
The stolen bag was recovered by officers, but it was empty.
Witness Daniel Brown, who was working as a car detailer in the parking garage, said he saw the two men laughing as they ran by him and drove off in a charcoal gray Toyota Tundra truck.
"I just figured they were shoplifters. We see that kind of stuff all the time," said Brown.
By the time police had sealed off the parking structure and cleared it floor by floor, the suspects were long gone, according to Brown.
Connelly said the victim was not seriously injured but was dazed and in shock, as he hit the ground hard after being tased. He's expected to make a full recovery.
Police described the suspects as two Hispanic men between 25 and 35 years old. One suspect was wearing a black hat and gray sweater, while the second suspect was wearing a blue shirt.
At 6 p.m., FBI officials released a photo of the suspects captured on surveillance tape moments after the taser assault. In the image, the men are seen running.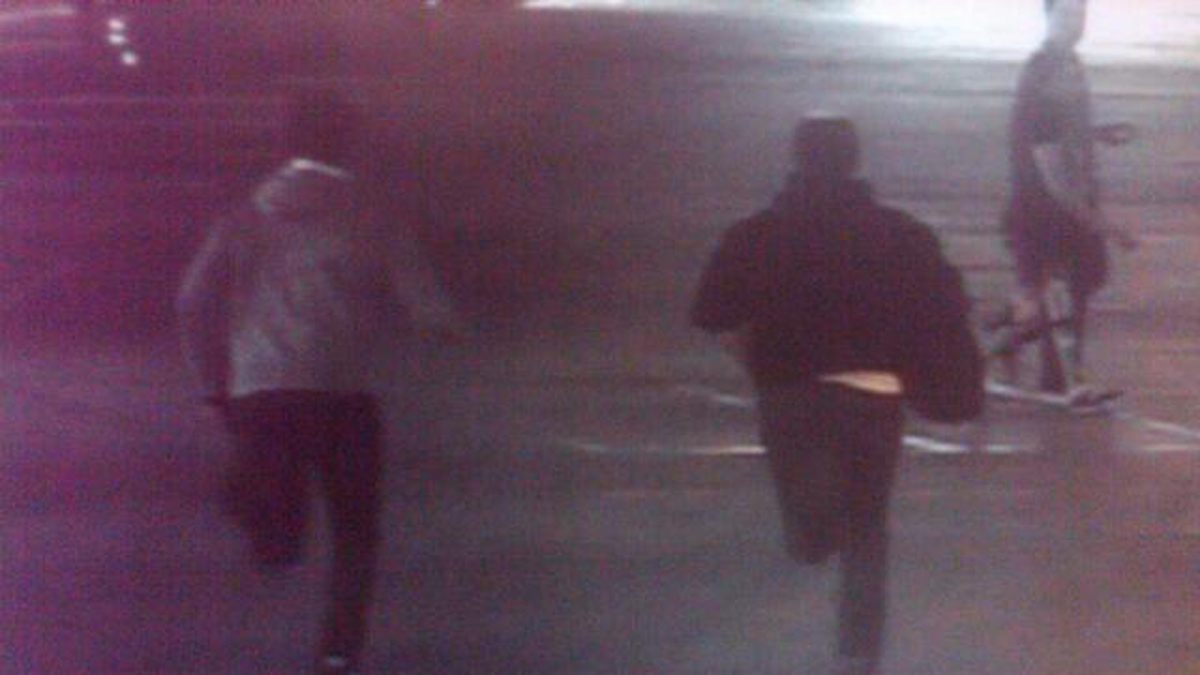 Published at 3:39 PM PDT on May 2, 2014 | Updated at 4:35 PM PDT on May 3, 2014