Emergency crews rappelled down the cliffs in La Jolla to rescue two people stuck high above the beach below.
Approximately a dozen firefighters, lifeguards and cliff rescue workers responded to the cliffs above Torrey Pines just after 10 a.m. Wednesday.
NBC 7 newschopper captured video of a man and woman sitting in a crevice of the cliff about 10 or 15 feet apart.
The man was wearing jeans and a long-sleeved jacket and appeared to be using a phone or handheld device. Firefighters said the man suffered a broken leg.
The woman was below him on the cliffs and appeared to have a backpack or cooler with her. She was wearing a tank top and shorts with sunglasses and also appears to have a phone.
Rescue workers said the couple was on the path and wandered onto a "false trail."
The two people went too far and soon realized the only way out was to continue going down to the beach lifeguards said.
That's when the man fell and injured his leg.
One cliff rescue worker rappelled down to the pair and handed them safety helmets and secured the woman to a safety line.
A second rescuer was lowered to the spot on the cliff by helicopter and secured the man to the safety line.
About 30 minutes later the man was hoisted up to a field at the top of the cliff where he was placed on a gurney and taken to a waiting ambulance.
In San Diego, cliff rescues are common with an average of two calls per month emergency workers estimate.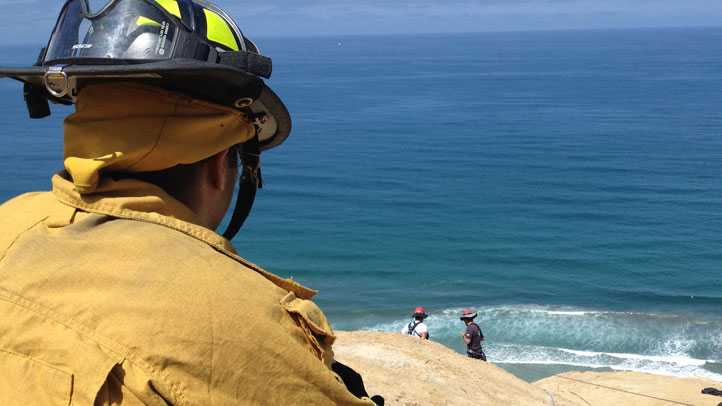 Crews have rescued of all types on the cliffs, from hikers to naked people and even dogs.
The San Diego Fire-Rescue department says the biggest expense comes from deploying its helicopter.
It's not used every time, but the operating cost for it is $3,850 per hour.
Officials say people are rarely fined after they've been plucked off the cliff unless there's a blatant violation.