Hours after receiving a report of a capsized boat off Coronado, U.S. Border Patrol agents discovered 8 people covered in sand walking casually along the beach near a row of multi-million dollar homes. An additional seven people were taken into custody nearby agents said.
Several agencies responded to a report of a capsized vessel in the waters off Silver Strand State Beach just after 5:30 a.m.
Lifeguards, U.S. Coast Guard, U.S. Border Patrol and officials from North Island searched for any sign of a boat in distress but found nothing.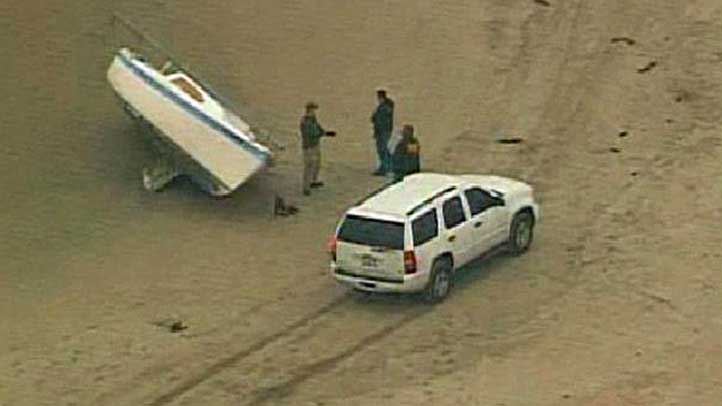 Then, to the north, a television news helicopter spotted a boat on the sand, tilted to one side.
Nearby, seven to eight people were walking in the opposite direction of the boat.
About 20 minutes later, U.S. Border Patrol agents approached the walkers, who had by now spread out across the sand, and ordered them to kneel on the ground.
Other people exercising along the popular stretch of beach were stopped by the agents and directed to go a different direction.
While several agents pulled the group of eight together, others investigated the sailboat.
An hour later, agents confirmed the arrest of an additional seven people in the same area, and identified all 15 as undocumented immigrants.
The 911 call that originally reported a capsized boat turned out to be false. Agents said it's possible a false 911 call sent authorities toward the Silver Strand State Beach as a ploy to distract them.
"The fact that somebody was calling and saying that the boat was taking on water and they might need assistance, that's unusual," said Supervising Agent Michael Jimenez.
No drugs were found on the boat. The people detained are being interviewed by U.S. Border Patrol.
Keep up to date on breaking news: Download our improved iPhone app, follow us on Twitter @nbcsandiego, fan us on Facebook, sign up for our breaking news e-mail alerts or text SDBREAKING to 622339 to receive text messages for local breaking news. (For more info, text HELP. To end, text STOP. Message and data rates may apply.)
Published at 6:44 AM PDT on Mar 30, 2012 | Updated at 5:30 PM PDT on Mar 30, 2012