The county of San Diego is putting more resources toward handling mental health-related emergency calls with 10 new teams devoted to those incidents.
This fiscal year, the county is giving an extra $1.6 million to its Psychiatric Emergency Response Teams (PERT), which pairs a sheriff's deputy or police officer with a licensed mental health clinician.
Ten more pairs mean the county now was 33 PERT teams at their disposal as mental health calls continue to rise since 2008.
The officer-clinician duo ride in the same patrol car to scenes where mental illness could be a factor. The goal, officials say, is to de-escalate crises and reduce the number of incarcerations and hospitalizations from such calls.
When they arrive, the clinician will start a dialogue with the subject and try to convince him or her to seek mental health services. However, when the officer or deputy believes the person is a risk to himself or others, they may detain the subject.
Five new teams started in July, while another five were created this month. According to the county, they will be assigned to areas with no coverage or with a high number of incidents.
"One of our goals is to increase public safety by freeing up officers to respond to other calls while PERT teams handle mental health calls," said County Supervisor Diane Jacob, who proposed the additional funding with Supervisor Dave Roberts in April. The board of supervisors unanimously approved the extra money.
"The program has been a great success because of the collaboration among law enforcement agencies and our mental health community," said Roberts in a release. "I am proud the Board supported that collaboration by approving more funding to help people who need it most."
Local law enforcement received roughly 21,5000 PERT-related called in 2014, the county says. When a PERT team could not respond, 911 dispatchers sent an officer who had been trained on PERT protocols.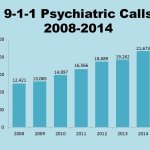 According to officials, the number of psychiatric calls has steadily risen every year since 2008. That increase is due to "the fact that more people know help is available and are calling 911 for services for themselves or a loved one," said Alfredo Aguirre, the director of the county's Behavioral Health Services division, in a news release.
PERT, a nonprofit agency run by the Community Research Foundation, has been in San Diego County since 1996. It now exists in every local law enforcement jurisdiction.
Those experiencing mental health challenges can call the county's 24-hour, multilingual hotline at 888-724-7240 or visit the It's Up to Us website.