The most important thing for passengers on San Diego's Metropolitan Transit System (MTS) to worry about should be whether their bus or trolley will arrive on time, not whether they will become the victims of crime.
Yet, several recent high-profile violent incidents appear to echo what MTS's own data reveals; reports of crime on public transportation rose after the end of the pandemic.
That victim in November told us his attacker hit him with a metal water bottle.
"Never riding again," Logan Nelson told us. "Never ever. I am just going to suck it up and sit in traffic."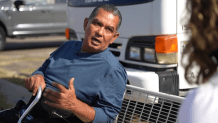 Ricardo Rodriquez also told us he is never riding a bus or trolley again – despite the fact he spent nearly three decades driving buses for MTS.
"Don't take the bus, until they make it more safe," Rodriguez told us.
He spent 28 years on the job, which he says he loved until a passenger attacked him.
"This person who attacked me, [assaulted] me, destroyed my life," Rodriquez said. "I'm scared to come out of my house."
Two years ago, Rodriguez pulled his bus up to the 4th and C stop along the 929 bus route in Chula Vista when a passenger got on without a mask and without paying. Video shows Rodriguez repeatedly asking the passenger to pay, and to put on a mask. At the time, masks were required by law on public transportation.
Video shows the passenger throwing milk all over Rodriguez, and then punching him a total of 18 times. Chula Vista police ultimately arrested the attacker who is now serving a two-year sentence. Rodriguez has not been able to return to work since. He says he now struggles with vision issues, debilitating headaches, back pain and severe PTSD.
MTS data shows an increase in crime reports
NBC 7 Investigates dug through more than five years of crime report data. We found crimes including homicide, assaults, robberies, sex offenses and vandalism have been trending in the wrong direction. Total crimes jumped in 2021 and nearly doubled in 2022.
In addition, we noticed a sizable difference between the number of crime reports on MTS trolleys compared to buses.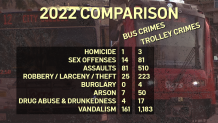 Criminal incidents captured on surveillance video
NBC 7 Investigates spent months requesting information and surveillance video about crimes committed over the past few years onboard MTS transportation or at trolley and bus stations.
Incidents like these still worry Rodriguez. His wife is also an MTS bus driver, and he says he holds his breath every time she goes to work.
"I'm sad," Rodriguez said. "I'm extremely upset. I wish I could have the power to do something about it."
Last year, MTS reported nearly 600 assaults, with more than 160 of them against its own employees.
Rodriguez says bus drivers need an entirely separate compartment, like trolley conductors, and says MTS needs a security officer on every bus and trolley. Because his wife is an employee the family gets free ridership as a perk. However, the family doesn't allow their children to take buses or trolleys.
"They can die," Rodriguez told us. "It's so bad that they can die now."
Efforts by MTS to try to make public transportation safer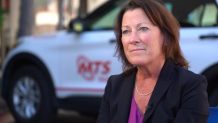 Sharon Cooney has served as the CEO of MTS for just over three years.
"We do believe that our system is a safe system for people to ride," Cooney said.
Along with pointing to its new crime-statistic methodology, Cooney says the increase in crime reports can be linked to ridership going up as the pandemic ended. More riders, says Cooney, means, inevitably, more bad actors.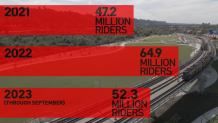 Cooney says MTS will have 34 new code compliance inspectors hired by the spring of 2024, for a total of 90. They are not security officers or armed, but MTS hopes the higher visibility of anyone in uniform will put more passengers at ease and discourage crime. MTS also contracts with a private security firm for 200 armed security officers.
"Safety is our number one guiding principle," Cooney said. When asked how much responsibility MTS bears for keeping its passengers and employees safe. "We have to provide a safe experience in order for our customers to feel safe. We have the personnel. We have the investment in training. And we are always looking for ways to improve."
However, with more than 910 buses and trolleys in its weekday fleet, Cooney says they can't put a security guard in every vehicle.
"I do look at it as a broader sense of vigilance that everybody should have in public spaces," Cooney said. "I mean anything can happen at a park or a grocery store. We see it in schools. You always need to be aware of your surroundings … If you were walking on a city sidewalk at night, you wouldn't just simply walk without being aware of your surroundings."
So far, crime reports this year appear far lower than in 2022. That's according to data we obtained up through September of 2023. Cooney says she hopes the worst of the crime spike is behind us. She encourages all passengers to save the MTS 24-hour security dispatch number to their phones: 619-318-1338 for texts or 619-595-4960 for phone calls.