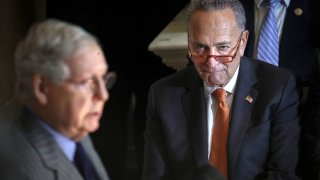 Treasury yields fell on Monday as fears over a new, more contagious strain of coronavirus sparked demand for the relative safety of government bonds.
Those fears were checked by a new, $900 billion Covid-19 relief package from Congress and longer-term optimism about the global vaccine rollout.
The yield on the benchmark 10-year Treasury note fell about 5 basis points to 0.905%. The rate hit a low of 0.882% earlier in the session, its lowest level since Dec. 11. Meanwhile, the yield on the 30-year Treasury bond dropped 6 basis points to 1.646%. Bond yields fall as their prices rise.
News of a new and more transmissible strain of Covid-19 in the U.K. caused investor jitters over the containment of the virus to resurface.
British Prime Minister Boris Johnson announced Saturday that much of the country would enter strict lockdown measures over the Christmas period, and a host of other countries have now closed their borders to the U.K.
Concerns that Europe could see its economic recovery threatened by new lockdowns and business halts sent investors scrambling out of riskier assets like equities and into so-called safe haven trades including U.S. Treasurys.
"Presumably the flight-to-quality would have been even more significant had it not been for Congress's $900 bn pandemic relief bill which is set for a Monday vote by both the House and the Senate," wrote Ian Lyngen, rates strategist at BMO Capital Markets.
"There is little question that the current price action represents the market's kneejerk response to the actualization of a key pandemic risk on the path to the new normal – i.e. new strain of the pathogen," he added. "The most relevant uncertainty now becomes how far the restrictions and fresh lockdowns need to extend into Europe and beyond."
Curbing the pessimistic sentiment on Monday was news that U.S. lawmakers had finally reached a compromise on a second round of Covid-19 relief after months of haggling.
Senate Majority Leader Mitch McConnell and Minority Leader Chuck Schumer said Sunday that lawmakers had managed to find common ground on a $900 billion relief package, which will be voted on Monday.
Longer-term optimism about the coronavirus vaccine also helped keep a lid on the pivot to U.S. debt.
With the Pfizer and BioNTech vaccine already being rolled out across the country, about 6 million doses of the Moderna inoculation began to be distributed on Sunday. An advisory panel recommended that essential workers and people over 75 should be first in line to receive the shot.
—CNBC's Thomas Franck contributed to this report.
Copyright CNBCs - CNBC