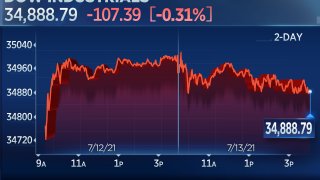 The Dow Jones Industrial Average slipped from its high as a hotter-than-expected inflation report overshadowed a strong start to second-quarter earnings season on Tuesday.
The Dow shed 107.39 points, or 0.31%, after closing at a record just shy of 35,000 the day prior. The S&P 500 closed 0.35% lower at 15.42 after reaching a new intraday record earlier in the session. The Nasdaq Composite retreated slightly from another intraday record to dip 0.38% at 55.59.
The small-cap Russell 2000 fell nearly 1.9% in its worst daily performance since June 18.
The major averages' downward movement came as the 10-year U.S. Treasury yield jumped more than 4 basis points, or 0.04%, and crossed the 1.4% level in a delayed reaction to the latest numbers on inflation.
Inflation rose at its fastest pace in nearly 13 years, the Labor Department reported Tuesday. The consumer price index increased 5.4% in June from a year ago; economists surveyed by Dow Jones expected a 5% gain. Core CPI, excluding food and energy, jumped 4.5%, the sharpest move for that measure since September 1991 and well above the estimate of 3.8%.
"A white-hot June CPI print has the markets jittery," Cliff Hodge, chief investment officer at Cornerstone Wealth, said. "Moving forward we expect these inflation numbers to begin to cool. June 2020 was the absolute low for Core CPI during the pandemic shutdown, so the comparisons get tougher from here. Used car prices soared 45% year over year which is not likely to persist in coming months."
San Francisco Federal Reserve President Mary Daly told CNBC on Tuesday she believes recent inflation will prove temporary. Daly also said that strong economic recovery could allow the central bank could taper its asset purchases by the end of 2021 or early in 2022.
Daly's comments and the latest inflation data came after big banks and PepsiCo posted blowout second-quarter earnings reports. But with stocks at record highs and the Dow Jones Industrial Average just shy of 35,000, expectations likely ran higher than the official estimates reflected.
JPMorgan Chase shares dipped about 1.5% even after posting second-quarter earnings of $11.9 billion, or $3.78 per share, which exceeded the $3.21 estimate of analysts surveyed by Refinitiv.
Banks set aside billions of dollars for loan losses amid the pandemic, but have been releasing those reserves as consumers performed better than expected. JPMorgan released $3 billion in loan loss reserves after taking just $734 million in charge-offs. That gave the firm a $2.3 billion benefit, allowing the bank to top earnings expectations. Investors may be giving less credit to JPMorgan's earnings beat due to this loan loss reserve release.
Goldman Sachs also shares edged about 1.2% lower after the firm reported second-quarter earnings of $15.02 per share, topping analysts' expectation of $10.24 earnings per share. The bank posted its second-best ever quarterly investment banking revenue as a rush of IPOs hit Wall Street last quarter.
PepsiCo shares added 2.3% after the company crushed estimates for its second-quarter earnings and revenue, fueled by returning restaurant demand. The drink and snack giant also raised its forecast.
Meanwhile, shares of Boeing fell about 4.2%, weighing on Dow sentiment, after the plane maker cut 787 Dreamliner production following the detection of a new flaw.
Overall earnings reports are expected to be stellar for the second quarter over the coming weeks with profit growth estimated at 64% year-over-year for the quarter, according to FactSet. That would be the biggest quarterly profit increase since 2009.
Banks' earnings are expected to more than double for the second quarter, with an estimated 119.5% estimated year-over-year growth rate, according to analysts polled by FactSet.
In the regular trading session on Monday the Dow rose 126.02 points to close just below 35,000. The blue-chip measure is up 14% this year. The S&P 500 and Nasdaq Composite gained 0.3% and 0.2%, respectively, to record closes.
"High expectations for earnings and each companies' forward guidance will push markets higher or disappointment may create a small pullback in equity markets," said Jeff Kilburg, chief investment officer at Sanctuary Wealth. "Eyes will be on the major banks to set the tone for the next few weeks of earnings."
Bank of America, Citigroup, Wells Fargo and Morgan Stanley all ended Monday higher as well. They will report their earnings later in the week.
Federal Reserve Chairman Jerome Powell is scheduled to appear in front of Congress Wednesday and Thursday to provide an update on monetary policy. He has maintained that the Fed's easy policies will remain intact until there's more progress on its employment and inflation goals.
Copyright CNBC