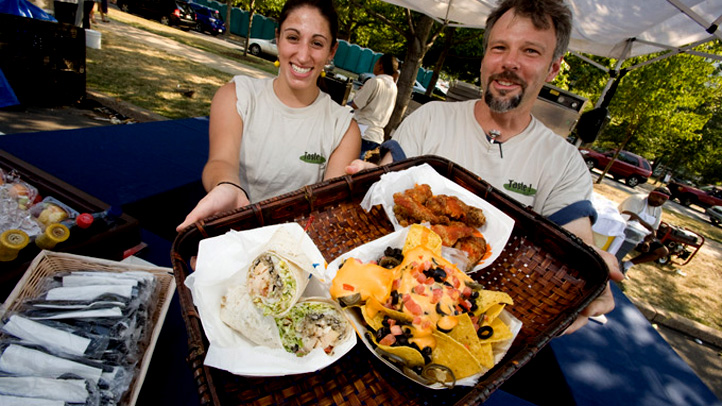 Have you wandered around your neighborhood lately and thought to yourself, "Why haven't I tried that little Italian place around the corner? Or eaten at the diner across the street?"

It can be tough to sample all the scrumptious dining spots in your 'hood, especially when San Diego's restaurant scene is blossoming. And besides, who has the time, or the money, to constantly dine out?

Well thanks to "Taste of" events picking up steam, it's now relatively easy to try a handful of eateries at once. The best part? The cost of one ticket to sample a variety of foods costs about one the price of one meal. Sweet.
So San Diegans, prepare your stomachs. Because this April there's a few self-guided culinary adventures for you to explore.

April 15, 11 a.m. to 3 p.m. – Taste of College Area
Cost: $25 in advance, $30 at the door
Dining hall got you down? In case San Diego State students didn't know, there's plenty to eat in College Area aside from what's on campus. Spend the afternoon of April 15 indulging in your culinary cravings as you take part in the tastiest event around town. The famed student favorite, 4.0. Deli, will be serving up sandwiches and Woodstocks Pizza will dole out slices. And Pubcakes, possibly the most tantalizing restaurants of the bunch, has alcohol-infused cupcakes for event attendees. Now that sounds like something college students can get behind.

April 17, 5:30 to 9 p.m. – Taste of Shelter Island
Cost: $20
At the Taste of Shelter Island not only will you get scrumptious food, but also beautiful bay views. The economically-priced event will feature some of San Diego's classiest joints, including The Pearl Hotel and Brian Malarkey's popular restaurant Gabardine. The island's various eateries will be handing out samples of their signature dishes. And if you're too full to walk – don't worry. There will be shuttles providing transportation from place to place.

April 21 noon to 4 p.m. – Taste of Hillcrest
Cost: $30 in advance, $35 at the door
Easily one of San Diego's best foodie hotspots, the Taste of Hillcrest features more than 50 samples from some of the colorful neighborhood's best restaurants. From cafés and bistros to five-star dining, this event will offer up flavorful bites from across the globe. A few favorites include San Diego's beloved bakery Bread & Cie, along with newbies such as The Range. For a full list of the featured restaurants, check out the website.

Follow NBCSanDiego for the latest news, weather, and events: iPhone App | Facebook | Twitter | Google+ | Instagram | RSS | Text Alerts | Email Alerts