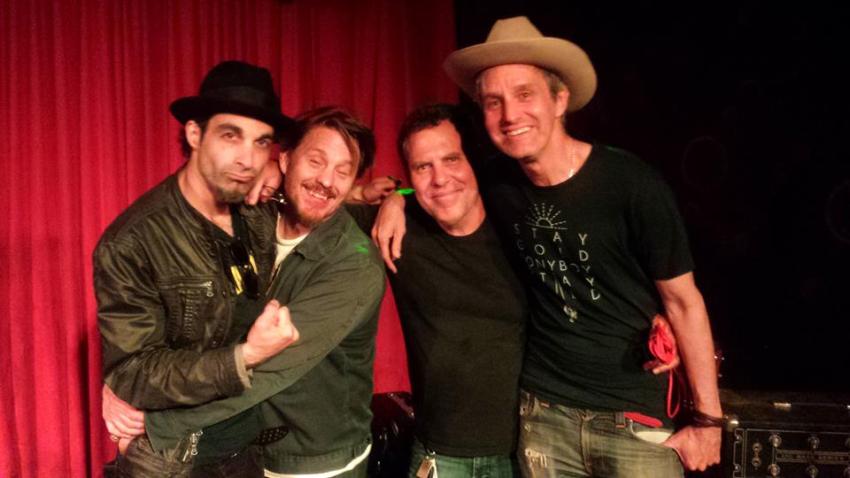 Once again, your day is full of some seriously great music options. The second day of the Adams Avenue Street Fair is back and today you can catch some awesome bands on the Casbah and other stages, including the Rugburns! By nightfall, jump on the new Rapid Bus or the green trolley line to check out Duran Duran at SDSU's Open Air Theatre, or head to the Casbah for Naked Raygun. The Dead Kennedys are at the Observatory and the Red Hot Chili Peppers play a very pricey benefit show at the Belly Up. If you just feel like sticking around Adams, Loudon Wainwright III is at AMSD, which is the church on Mansfield.
Sunday, Sept. 27:
Casbah Rock Stage at Adams Avenue Street Fair feat. the Rugburns (5:45 p.m.), Barbarian (4:15 p.m.), Creature & the Woods (2:45 p.m.), Birdy Bardot (1:15 p.m.), Soft Lions (12 p.m.) @ 33rd & Adams Avenue
2015 San Diego Blues Festival (day 2) feat. Booker T. Jones, Tommy Castro & the Painkillers, Nathan James & the Rhythm Scratchers, and more @ Embarcadero Marina Park North (noon-8 p.m. -- read our SoundDiego interview with Booker T. Jones here)
Duran Duran, Clean Bandit @ Open Air Theatre, SDSU
Naked Raygun, the Touchies, the Two Tens, Records with Roger @ Casbah
Dead Kennedys, Naked Aggression, Downtown Brown, the Maxies @ The Observatory North Park
Red Hot Chili Peppers @ Belly Up (read our SoundDiego preview here)
Inaeona, Weight of the Sun, Born To Rise, Terrans @ Soda Bar
FNGRS CRSSD, DAY MVS, Classix (DJ Set), Jai Wolf, Klatch, Boys Don't Disco @ Quartyard (4-9 p.m.)
Rat Sabbath @ Bar Pink
Loudon Wainwright III @ AMSD
Dead Leaf Echo @ Whistle Stop
Mark Dresser Septet @ TSRI (The Auditorium at the Scripps Research Institute)
Cimorelli @ Voodoo Room, House of Blues
"Dr Seuss' The Cat in the Hat" @ California Center for the Arts, Escondido
Los Daniels, Los Romanticos De Zacatecas @ House of Blues
Pants Karaoke @ The Hideout
Nana & Soichi, Tikitronic @ Sycamore Den
Adams Avenue Street Fair feat. Jordan Sadness (noon), Tim Connolly (1 p.m.), Nina Francis (2 p.m.), Alaina Blair (3 p.m.), John Hull (4 p.m.), Jesus Gonzalez (5 p.m.) @ Lestat's
Adams Avenue Street Fair feat Sven-Eric Seaholm (noon), Gramophone Gregory (1 p.m.), Gabriella & La Buena Onda (2 p.m.), Rob Deez (3 p.m.), Steve Harris (4 p.m.), Jeff Berkley (5 p.m.), Isaac Cheong (6 p.m.), Bad Penny & the Pistols (7 p.m.)@ Java Joe's
Element a440, Squirrelly Arts, the Iris, Darks Of Heaven @ The Merrow
Matt Hollywood & the Bad Feelings (ex-the Brian Jonestown Massacre), Mint Field @ Til-Two Club
True Press Animo @ U-31
The Wag @ Winston's (5-8 p.m.)
Charlie Arbelaez & Louis Valenzuela @ Croce's Park West (noon)
Besos de Coco @ Croce's Park West (6 p.m.)
Stellita @ Humphreys Backstage Live (10 a.m.-2 p.m.)
Mark Allen Felton @ Humphreys Backstage Live
Rudy de Anda, Dustin Lovelis, Quali, Artmonk @ Tower Bar
Jose Sinatra's OB-O-ke @ Winston's
Open Mic Comedy @ Til-Two Club
Fluxx Fight Night @ Fluxx
Mr. Vegas, Natel @ Spin
For The Love of Hip Hop @ Kava Lounge
Sunday Funday Karaoke @ 710 Beach Club
Rosemary Bystrak is the publicist for the Casbah and writes about the San Diego music scene, events and general musings about life in San Diego on San Diego: Dialed In. Follow her updates on Twitter or contact her directly.