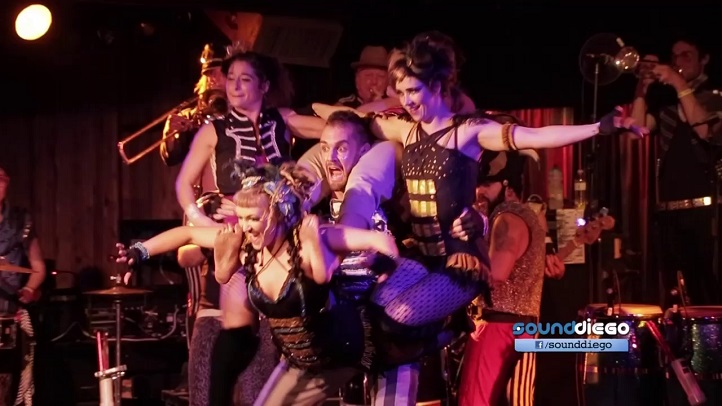 I'm not sure if we still call it humpday after a three-day weekend, but either way, this Wednesday is one in which you're not gonna want to stay home on the couch. The Belly Up will be transformed into a carnival environment as MarchFourth return with their madness. They're like a parade marching band, cheer squad, and traveling carnival all in one and their interactive shows are impossible to understand until you've been there. Meanwhile Warsaw play a rare mid-week show at Whistle Stop, the Merrow goes rock en espanol, Sam Outlaw gets the crowd riled up at Casbah and Mount Kimbie bring their digital sound of bleeps-and-bloops to Music Box. I, of course, would be a liar if I didn't admit that the only place you'll find me is at the Office, to catch local musicians paying tribute to my all-time favorite musician, Ryan Adams. I hope they're ready for me.

Wednesday, May 31:
Sam Outlaw, Michaela Anne @ Casbah
Mount Kimbie, Ash Kooza, Tirzah @ Music Box
Ryan Adams Under Cover @ The Office
MarchFourth, Desert Rhythm Project @ Belly Up
Warsaw, Dreams Made Flesh, Strange Ages @ The Whistle Stop
Scream, Death Eyes, Tightwads @ Soda Bar
NoMAMS! La Banda es de Todos, Marujah, Cuarto Menguante, Bipolarte @ The Merrow
Drake White & the Big Fire @ Moonshine Beach
Durand Jones & the Indications @ Space
Johnny Tarr Quartet @ Bar Pink
Fake Tides, Whole Milk, Lanterns @ Lestat's
Gilbert Castellanos Young Lions Series & Jazz Jam @ Panama 66
Dance Klassique @ Blonde
Open Mic Night @ Pour House (Oceanside)
Chill Clinton with DJ BlackBelt Jonez @ The Holding Company 1502
Club Kingston Presents: Something Like Seduction -- A Mac and the Height, DJ Carlos Culture @ Winston's
The Skivvies @ Martini's On Fourth
Firehouse Swing @ Queen Bee's
Karaoke @ The Bancroft
DJ Freeman @ U-31
Open Mic with Jefferson Jay @ Winston's (6-9 p.m.)
Tradewinds @ Humphreys Backstage Live
WTF Wednesday with DJs Mr Hek, Cros1 @ El Dorado
Open Mic/Open Jam @ 710 Beach Club
Rosemary Bystrak is the publicist for the Casbah and writes about the San Diego music scene, events and general musings about life in San Diego on San Diego: Dialed In. Follow her updates on Twitter or contact her directly.