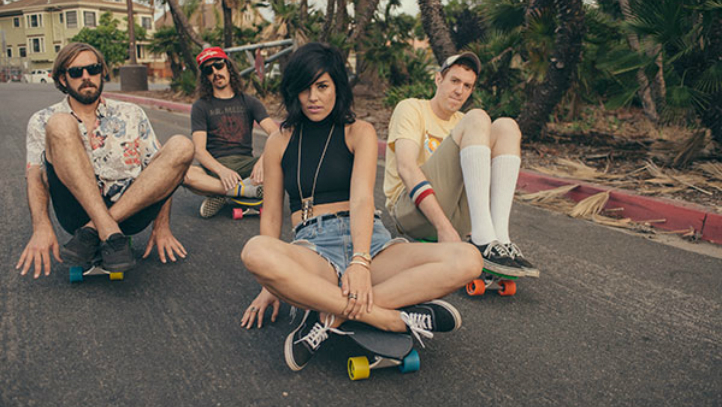 If you happened to drop by the Festival of Arts in North Park over the weekend, hopefully you got a glimpse of Flaggs, who played on the Bar Pink stage, and Barbarian, who played on the 30th Street stage. Both bands absolutely killed it. Though I have seen both many times, I'm always floored when local acts remind you just how talented they are, that they can step up to the plate when it comes to large stages and outdoor performances to large audiences -- you can imagine these bands taking off on national tours. Wednesday night, Flaggs releases a new record, and you can celebrate with some great local acts, including Barbarian. Soda Bar hosts the very quirky, carnivalesque performance of Quintron & Miss Pussycat, while '80s heartthrob Brian Adams performs at the O.A.T., and Brawley returns with their local country night, the Bar Room Ball, at Belly Up.
Wednesday, May 20:
Flaggs, Barbarian, the Two Tens, Gloomsday @ Casbah
Quintron & Miss Pussycat, Nots, Ultragash @ Soda Bar
Brian Adams @ Open Air Theatre, SDSU
Celtic Woman @ San Diego Civic Theatre
DJ Claire @ Bar Pink
Kulture @ The Hideout
Brawley's Bar Room Ball, Sara Petite, the Freightshakers, Brawley @ Belly Up
Pop Vinyl @ Humphreys Concerts by the Bay
Young Lion Series featuring International Academy of Jazz @ Croce's Park West
Randi Driscoll @ Java Joe's
Westside Infection @ Riviera Supper Club
Gilbert Castellanos Jazz Jam @ Seven Grand
Records with Roger @ Bluefoot
DJ Carlos Culture @ Winston's
The Ratts Revenge: DJ Tiki Thomas and Mikey Ratt @ Tower Bar
Andy Mauser @ Gallagher's Irish Pub
This and That @ Kava Lounge
Quinn McCarron, CLAMR, Karina Torix @ The Merrow
Not Happy @ Whistle Stop
The Fooks @ Henry's Pub
Soul Majestic @ Winstons
Pat Hilton Duo @ Tin Roof
Rosemary Bystrak is the publicist for the Casbah and writes about the San Diego music scene, events and general musings about life in San Diego on San Diego: Dialed In. Follow her updates on Twitter or contact her directly.