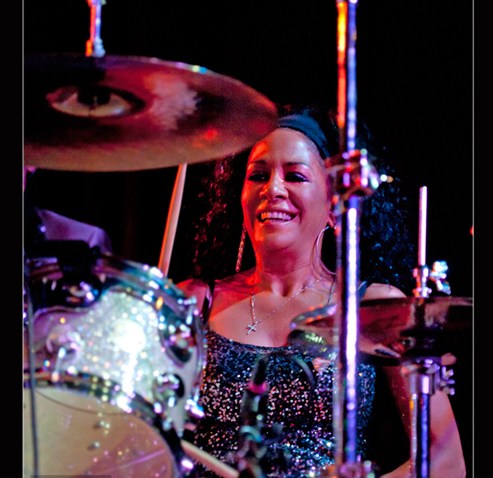 OK, OK: After a light week of music, it looks like we're back to normal around here. Friday offers up a ton of goodness. At the Casbah, Saintseneca return after the release of their third album late last fall, while Beira brings local doom metal to Soda Bar. The mainstays of the English Beat play a sold-out show at the Belly Up, while Ben Folds tickles the ivories with the San Diego Symphony as his backing band. Meanwhile, Jhene Aiko is at the Observatory, and Six String Outlaws are at the Music Box -- I hear there are some tickets at the respective box office for each. Friday fun is just a workday away.
Friday, Feb. 5:
Saintseneca, Des Ark, Torches @ Casbah
Beira, Strange Planet, Empty Gods, DJ K-Hole @ Soda Bar
The English Beat, Third Project @ Belly Up (sold out)
Jhene Aiko @ Observatory North Park
Ben Folds and the San Diego Symphony, Keola Beamer @ California Center for the Arts, Escondido
Six String Society @ Music Box
Legends: Keola Beamer and Henry Kapono @ California Center for the Arts, Escondido
I Survive, Blackcast, Shawshank Redeemed, Mandala, Victimized, Feiticeira, Vile Creations @ SOMA
Fast Heart Mart and Tennessee Tina, Feathers and Lead @ Across the Street at Mueller College
Miss Tess & the Talkbacks @ AMSD
First Friday with DJ Artistic @ Bar Pink
Plane Without a Pilot @ Ken Club
Clay Colton Band @ Belly Up (5 p.m.)
Blam Blam Fever: Rock Steady & Ska Night @ The Hideout
The Amandas @ Whistle Stop
Dukes of Haggard, the Willows @ Lestat's
Dan Bern @ Java Joe's
Haunted House of Mardi Gras @ House of Blues
Cold Played, bMuse, tAdeo @ The Merrow
Doswing (Chicago), Last Good Sleep (LA), Kinda Rad, Kinda Sad, Spcial Explosion @ The Bancroft
Joshua White (((Codes))) @ The Loft
The Distractions @ Tio Leo's
Trade Winds @ Humphrey's Backstage Live (5 p.m.)
Beta Maxx @ Humphrey's Backstage Live (9 p.m.)
Hip Hop vs. Punk Rock @ Tower Bar
The Devastators @ Winston's (9:30 p.m.)
The Grids, 13 Wolves @ Til-Two Club
Sex Panther @ Fluxx
Dimitri Vegas, Like Mike @ Omnia
Botnek @ Bassmnt
Jeremy Olander @ Bang Bang
Club Musae @ Boar Cross'n
Jetpack Mojo & the Pleasure Victims @ 710 Beach Club
Geoff Tate's Operation: Mindcrime, SevenTrain, RDG @ Ramona Mainstage
DJ Sixx Foota, DJ Fresh @ Spin
Rosemary Bystrak is the publicist for the Casbah, the content manager for DoSD, and writes about the San Diego music scene, events and general musings about life in San Diego on San Diego: Dialed In. Follow her updates on Twitter or contact her directly.