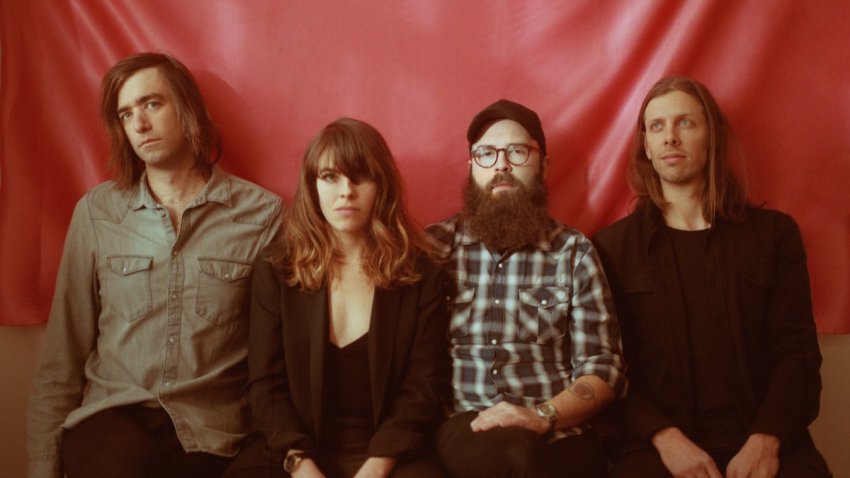 I know that everyone is super excited about the sold-out Beach House show at the Observatory and no doubt, they're an amazing live band with a vast catalog of great music. But for me, I'm a visual person. I love shooting photographs at shows, and you'd think a band called Beach House would have sunny and bright lighting, but in my experience, sometimes the stage is so dark you can't even see their faces. Instead, I'm most excited about Hop Along at the Irenic. The band's single "How Simple" is certainly going to be on many year-end lists and is finding the band larger audiences with every show. Around town, the
Casbah
has a solid lineup with Morricone Youth headlining after a weekend creating original live-scores at the Oceanside Film Festival. Oakland's Whiskerman frontman Graham is another of the very talented Patzner family (brothers Anton and Lewis have numerous projects including Judgement Day), and he's at Soda Bar tonight. Finally, the Heavy Guilt entertain at Panama 66 after a weekend of weddings had the patio closed to the public.
Sunday, August 5:
Chula Vista Lemon Festival 2018 @ Third Avenue Village
Hop Along, Thin Lips @ The Irenic
Beach House, Sound of Ceres @ Observatory North Park (sold out)
Morricone Youth, Hexa, the Color Forty Nine @ Casbah
Whiskerman, A.J. Froman, Ugly Boogie @ Soda Bar
The Heavy Guilt @ Panama 66
The Gipsy Kings featuring Nicolas Reyes & Tonino Baliardo, Vilray @ Humphreys Concerts by the Bay
Morricone Youth performing original re-score of "Mad Max" @ Sunshine Brooks Theatre, Oceanside Film Festival
Bayside Summer Nights: Harry Potter and the Goblet of Fire in Concert @ Embarcadero Marina Park South
Pocari Sweat: Vaporwave, Future Funk, Anime Groove @ Space
The Chairman & the Board: Ultimate Rat Pack Tribute Direct From Las Vegas @ Belly Up
On Your Feet (the Emilion & Gloria Estefan Musical) @ San Diego Civic Theatre (1 p.m. & 6 p.m.)
Kirk Franklin's Gospel Brunch @ House of Blues (10 a.m.)
Awakeners, Red Wizard, High Priestess, the Great Electric Quest, Salem's Bend, Ride the Sun @ Tower Bar (4-11:30 p.m.)
DJ Milky Wayne @ Bar Pink
Woody & Sunshine, Roadside Coyotes @ Bancroft Bar
Mary Poppins @ California Center for the Arts, Escondido
Phil Wickham: Living Hope Record Release, Bryan & Katie Torwalt, Tauren Wells, Evan Wickham @ Maranatha Chapel
Ria Carey and Don L. @ Martini's Above Fourth
The Hurricanes Reunion @ Tio Leo's
The Playground Sunday Night Dance Party @ The Merrow
Doc Hammer @ Blonde
Whit Aadland @ Pour House (1 p.m.)
Nathan James & the Rhythm Scratchers @ Pour House
Alterbeast, Reaping Asmodeia, Silence the Prince, Reaction Phase @ Brick by Brick
Salsa Sundays @ Queen Bee's (all ages)
Deep Bass @ Kava Lounge
Reggae Sunday @ U-31
Uptown Top Ranking @ The Office
Mercedes Moore @ Humphreys Backstage Live (10 a.m.-2 p.m.)
Fleetwood Bigmak @ Navajo Live
Cerissa McQueen @ Humphreys Backstage Live (8 p.m.)
Rosemary Bystrak is the publicist for the Casbah and writes about the San Diego music scene, events and general musings about life in San Diego on San Diego: Dialed In. Follow her updates on Twitter or contact her directly.