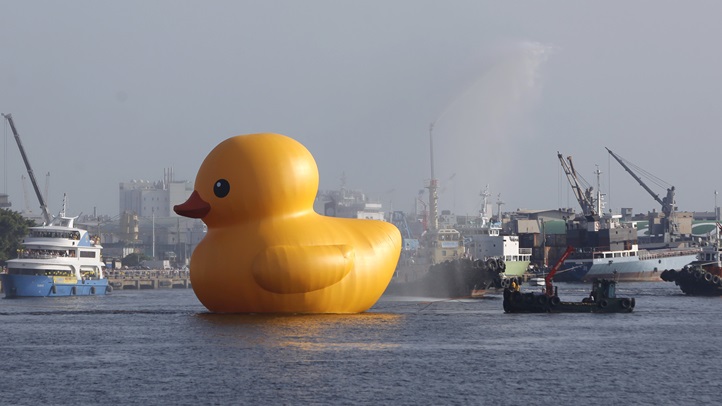 QUIRKY MEETS HISTORY: We can't imagine, back when tall ships sailed the seas on a regular basis, and not just as elements in history-minded, bring-your-camera weekends, that there was ever much to challenge the boats' girth or largeness or prominence out on the waves. And if seafarers of the 18th century had turned to see a bright yellow duck the size of a portly vessel? Well, that would have been quite extraordinary, indeed (we can picture people in tri-cornered hats and breeches attempting to board the duck for further exploration, gangplank-style). No people in breeches, though, will attempt to climb the gargantuan rubber duck that's due for the Tall Ships Festival that's sailing near San Pedro through Sunday, Aug. 24. That's because the duck, a huge, pontoon-based inflatable by Dutch artist Florentijn Hofman, is invited to the festival. More than that, the quirky artwork is very much anticipated, given that this is its first West Coast appearance, and only its second appearance in the United States. This is a biggie, since the duck's appearances have become something of a worldwide phenomenon.
AS FOR THOSE TALL SHIPS? Yep, the weekend is absolutely about the boatly beauties, too. You can board one, watch from shore, participate in craft activities, and more. (About a dozen mores, actually -- it's all Tall Ships all the time 'round Pedro.) Wellll... and there are certain duckly elements in the mix, too. For example? The U.S.S. Iowa is handing out rubber ducks to kids until those lil' duckies run out. Yeah, for sure, a lot of people are going to this one, both for the stately vessels and contemporary quacker.
IF YOU CAN'T GET ENOUGH... of the Tall Ships, sit tight, matey: Many of the famous vessels'll be in Dana Point in September.
Copyright FREEL - NBC Local Media