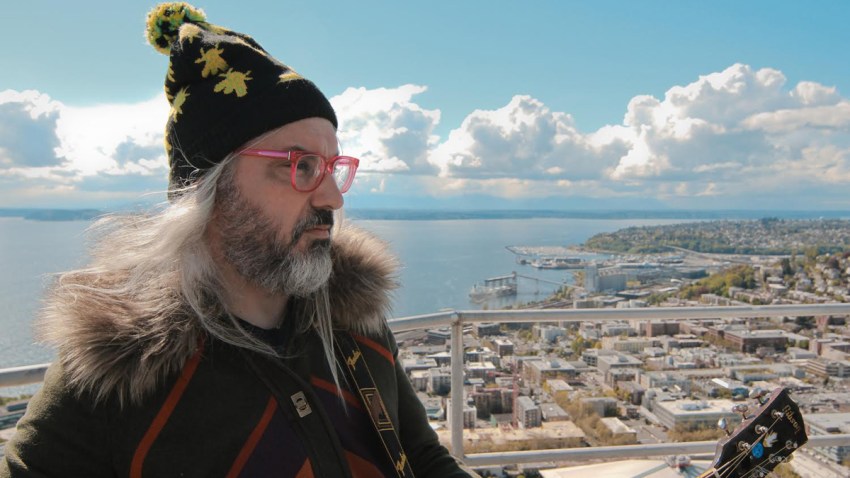 J Mascis is known as a reluctant interviewee. The guitarist, singer and songwriter best known for indie-rock stalwarts Dinosaur Jr. even had the Village Voice compile an article about him titled "Five Awesomely Awkward J Mascis Interviews."
But that wasn't the case when SoundDiego spoke with him recently. At home in Massachusetts between tour dates, Mascis was happy to talk about everything from hanging out with King Khan in Berlin to his August-released second solo album, "Tied to a Star."
It's his highest-charting album debut to date, features appearances from Cat Power's Chan Marshall and San Diego's own Pall Jenkins and reinforces the fact that the soft-spoken rocker doesn't always need to crank it to 11 to get his point across.
He'll be playing songs from it, along with a cover of Mazzy Star's "Fade Into You" that he's releasing on Black Friday, when he stops by the Casbah on Nov. 12.
Scott McDonald: How are you?
J Mascis: Good. Just got back from the Lego Factory. We had a tour. We were watching a master builder show us how to build stuff. Very interesting.
SM: Are you playing these "Tied to a Star" shows alone or with a band?
JM: Alone. You get used to it. But I don't prefer it. It's hard to play alone. But I've got my thing down. The show's all right, but it is hard being the only one doing anything. You've got to make all the noise.
SM: Will you switch gears again before making another solo record?
JM: Yeah. I don't think I'll do another solo record so soon.
SM: Tell me about how releasing the Mazzy cover on Black Friday came about.
JM: I don't know [laughs]. I can't remember. But it's pretty cool. I like it. I've been playing it live for a while now. Although I feel like I can probably play it better now than when I recorded it. It's one of those things where I made the song for [Sub Pop Records vice president] Megan Jasper's wedding. She wanted me to record that song, and she put it out as a 7" to give away to all of the guests. And people seemed to like it. It's a hit. And that's the thing. It's already a hit. So the work is done there [laughs].
SM: You worked with Fred Armisen and Funny or Die for the "Every Morning" video and have done music for and appeared in movies in the past. Do you enjoy being in that realm?
JM: It's always fun to see how the stuff works. I've spent so much time watching TV and movies, it's interesting to see how they make them. I just know that I'm not really talented at it or anything, but if someone wants to put me on a TV show or something, I'd gladly do it.
SM: You were on Seth Myers' show with Fred as well, right? They always have great guests sit in with the band.
JM: Yeah. I saw Captain Sensible on it the other day. That was pretty cool.
SM: You spend a good amount of time in Germany. Seems like a lot of musicians hang out there.
JM: I know King Khan from Berlin. He lived across the street from me. I see him in the neighborhood. And it's funny, I've see random bands on the street more than once. But I don't really know much about the music scene. I'm more wrapped up with family things while I'm there.
SM: More Dinosaur Jr. music on the way?
JM: I see Murph around. He's ready to do another record for sure. I haven't seen Lou for a while. But I know he's moving back to this area, so that might be interesting. We haven't lived in the same town since '89 or something.
SM: You worked with Pall Jenkins again on this record. Do you have an idea who you want to collaborate with going into an album?
JM: I don't know. It really depends on the song or what I'm coming up with. But I like Pall's stuff and think it really mixes well with what I've been doing.
SM: It's always interesting to follow the San Diego connections.
JM: Do you know Joe Vee? He's from San Diego. I remember meeting him a long time ago. He brought Milo from the Descendents to one of our very first shows down there. We were all psyched.
J Mascis plays the Casbah on Wednesday, Nov. 12, at 8:30 p.m., $18-$20, 21+. Luluc opens.