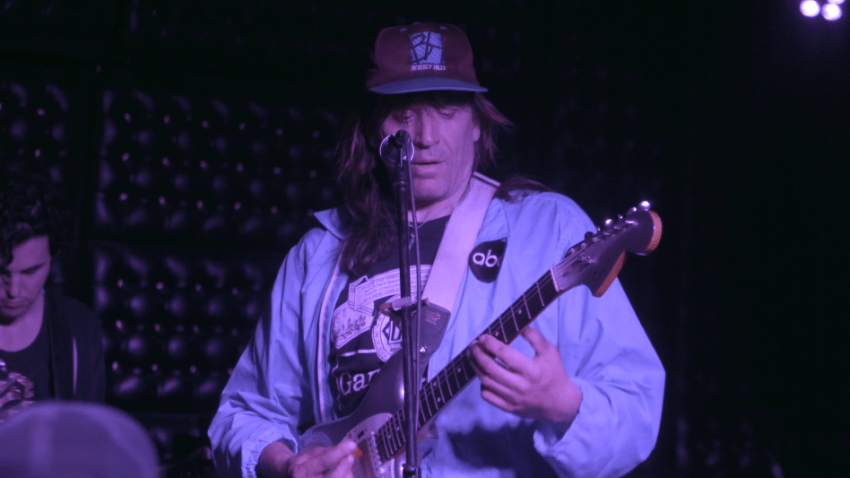 I want to start off letting you know that the White Buffalo show has been postponed due to illness. If you had a ticket, however, you can still go to the free show tonight with L.A. Edwards, who was set to open both nights. Meanwhile, the Lemonheads are playing a sold out show at the
Casbah
, and I'd be devastated if Evan Dando cancelled. Mine is a lifelong love of their music, and judging by setlists of other dates of this tour, they're playing all the faves we want to hear. You've probably seen posts over the years of Through Being Cool emo nights at Blonde and other establishments, and tonight, they've got quite a lineup at the Irenic. Our friends Little Hurricane are in town for Arts & Amps at Karl Strauss, a sure sign that summer is right around the corner, and Sloppy Seconds bring old-school punk to Soda Bar. It is gonna be a fire night, and I'm totally and completely on board for it.
Saturday, May 25:
Festival of the Sea @ San Diego Maritime Museum
The Lemonheads, Restless Age @ Casbah (sold out)
I Am Through Being Cool Fest 2019 with My American Heart, Dead American, Matty Mullins (DJ set), Audio Karate, For the Win, Forever Came Calling, Elkgrove, Pop Punk Mayhem, Cvltvre, Yujin 13, Alive & Well, Through Being Cool DJs @ The Irenic
Arts & Amps with Little Hurricane, Wild Wild Wets @ Karl Strauss Tasting Room (4:30-8 p.m., all ages, free)
Casbah and Vinyl Junkies present Jaz Coleman -- "Off on a Tangent" Spoken Word @ Vinyl Junkies Record Shack (sold out)
Sloppy Seconds, Odd Robot, Se Vende @ Soda Bar
Myledusa 2019 @ Park at the Park, Petco Park

The White Buffalo

, L.A. Edwards, Ron Blair & the Chris Torres Band, Nancarrow @ Belly Up
DJ Old Man Johnson @ Bar Pink (4 p.m.)
FairPlay, Color Til Monday, the Brain Ghost @ Bar Pink (9 p.m.)
Spice Pistols, Gitane Damone Quartet, Rikk Agnew Band, J & the 9'S @ The Merrow
Dark Globe, Silver Scout, Kalafia @ Black Cat Bar
The Damned Things, Crobot, He Is Legend, Weight of the Sun @ Brick by Brick
Booty Bassment with DJs Dmitri and Rob @ Whistle Stop
Unwind Yourself! with DJ Claire @ Whistle Stop (5 p.m.)
Sponge, Oliver James, Fuzz Huzzi, RDG @ Ramona Mainstage
Justus Proffit, Cryogeyser, Quali, Solv @ San Diego Content Partners
Transmission: '80s New Wave Dance Night @ Space
Just Like Heaven '80s Night @ Blonde
Matisyahu @ Music Box
Joy Again, Milly @ Che Cafe
The Piano Men @ California Center for the Arts, Escondido
The Stand Back Blues Band @ Grand Ole BBQ & Asado (5 p.m.)
KGB presents DSB: An American Journey @ House of Blues
Sophia Alone @ Martini's Above Fourth
Teen Daze @ The Loft, UCSD
La Beat Cantina LIVE @ Manhattan Bar
Noisem @ Tower Bar
Dan Dimonte Trio @ De Oro Mine Co.
Souleil Summer Kickoff with JT Donaldson, DJ Ala, Mikeytown, Cris Herrera, Uri Leshner @ Quartyard
Tori Roze & the Hot Mess @ Riviera Supper Club & Turquoise Room
Megan Ruger @ Moonshine Beach
Young Guns @ Moonshine Flats
Rosa's Cantina @ Rosie O'Grady's
Stone Horse @ Winston's (5 p.m.)
Tv Broken, 3rd Eye Open, Trouble in the Streets @ Winston's (9:30 p.m.)
Celebrating Latinidad Through the Art of Burlesque @ Queen Bee's
Black Cherry Lightin' @ Wildwood Crossing
The Blue Rendezvous @ Himmelberg's
Grim Jim @ Seven Grand
Strictly Business with DJs Heminguey & Gabe Vega @ The Office
SM Familia, Piracy Conspiracy @ 710 Beach Club
Fandango Fronterizo @ World Beat Center
Barbwire @ Renegade
Junior theDISCOpunk @ U-31
Leonard & the Troubadour Vinyl Night @ Tio Leo's
Lee DeWyze @ Humphreys Backstage Live (6:30 p.m.)
Platinum Vibe @ Humphreys Backstage Live (9 p.m.)
Undercover, DJ Ayla @ V Lounge, Viejas Casino
Tres the Band, DJ Ayla @ Lobby Bar, Viejas Casino
Butts Ta Nuts with DJs Jason Waterfalls, Julz, Kev Mighty @ El Dorado
AC Slater, Jack Beats, Redlight @ Spin (10 p.m.)
Pineapple & in the Bag Present: the JuiceBox @ Spin (3 p.m.)
Wellman @ Fluxx
Xanadoodz (Rush tribute), Digital Baths (Deftones tribute) @ Navajo Live
Stafford Brothers @ Parq
Mat Zo, Dillon Nathaniel @ Bang Bang
Green Gods presents Josta: Hardpop Juarez @ Kava Lounge
DJs & Dancing @ Henry's Pub
Rosemary Bystrak is the publicist for the Casbah and writes about the San Diego music scene, events and general musings about life in San Diego on San Diego: Dialed In. Follow her updates on Twitter or contact her directly.