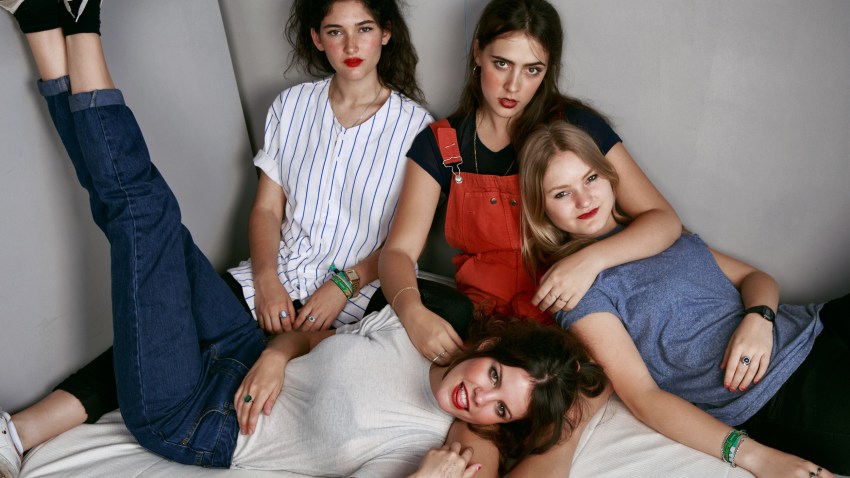 "I just woke up on a couch in Portland," Carlotta Cosials says from a couch in Portland, Oregon, where SoundDiego reaches her by phone. The co-founder of Hinds sounds delighted to find herself there, delighted to be on tour on a strange couch in a strange city. This is a band that doesn't just live in the moment but for the moment -- and come Saturday, Oct. 17, San Diego will have its own to share with Hinds.
Soaked in a melting sort of fuzzy, warm lo-fi, Hinds are fresh on the scene, playing their first shows as a full band last year -- as Cosials, co-singer/guitarist Ana Perrote, bassist Ade Martin and drummer Amber Grimbergen document in their short film, "A Summer With Us." But they were quick to be noticed. With early nods from industry critics for their live performances and Bandcamp releases, the Madrid-based garage band have opened for the Black Lips and the Vaccines and played alongside countless notables at SxSW and Burgerama, brushing up on their English along the way.
"You can't be the same person in another language. We were more shy for not knowing the language. We looked like more stupid. We are more clever in Spanish than in English. It has put us in a position that I think has…" Cosials trails off and gives a small, frustrated but friendly scream. "We have learned a lot from this, you know what I mean? Even in our broken English, we're starting to feel comfortable now, and that's it."
Hinds -- who had to change their name from Deers due to legal reasons -- didn't even intentionally write music in English. It just sort of happened. "When we started to write, it came out like that," says Cosials. "But all the music we listen to, all the music we like, it's sung in English. So for us, I think it was automatic."
The Spanish foursome are currently sitting on their debut record, "Leave Me Alone," which won't drop until January 2016, but word is it'll include some of their previously released Bandcamp singles and lead off the new track "Garden." Before writing it, Hinds thought they knew what kind of record they were going to make, only to be proven wrong -- by themselves.
"We wanted to party onstage with cheerful songs," says Cosials, "but we realized that we have so many more things to say. So we just did it and loved it. We just respected ourselves, you know? We're not doing a cheerful album. It's not a bad thing."
Even their darker tracks can't help but party though, as we'll see on Saturday. Take note, San Diego -- this is one of those incredible chances to see a band at an intimate venue before they break big. While Hinds may forever be the kind of group that couch surfs, soon it'll be by choice.
Hinds play the Irenic on Saturday, Oct. 17, at 7:30 p.m. The show is all ages, and tickets are available here.

Hannah Lott-Schwartz, a San Diego native, moved back to the area after working the magazine-publishing scene in Boston. Now she's straight trolling SD for all the music she missed while away. Want to help? Hit her up with just about anything at all over on Twitter, where -- though not always work-appropriate -- she means well.