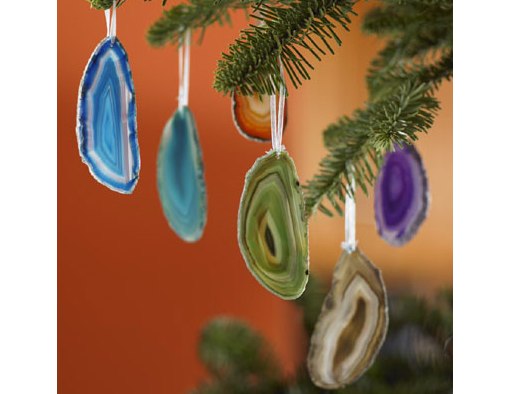 GET YOUR MINERALS: People always infuse a little bit of their own style into their Christmas tree decorations. More eclectic decorators may opt for bright colors and handmade baubles, while traditionalists string up silver bells and clean, white lights.

If your style falls on the earthier side of the spectrum, keep your tree's decor au natural with elemental ornaments from VivaTerra. Made from slices of colorful agate and chunks of quartz crystal, amethyst or citrine, you'll be sure to find a set to suit your tastes and color palate.

Opt for the crystalline ornaments to add sparkle, radiance and earthy edginess to your tree. For a more polished look, the agate ornaments emit color and shine, and can double as unique napkin rings for after the holidays.

GET IT: Online at VivaTerra for $42-$44 per set. Viva Terra, Pueblo, CO, 800-233-6011.