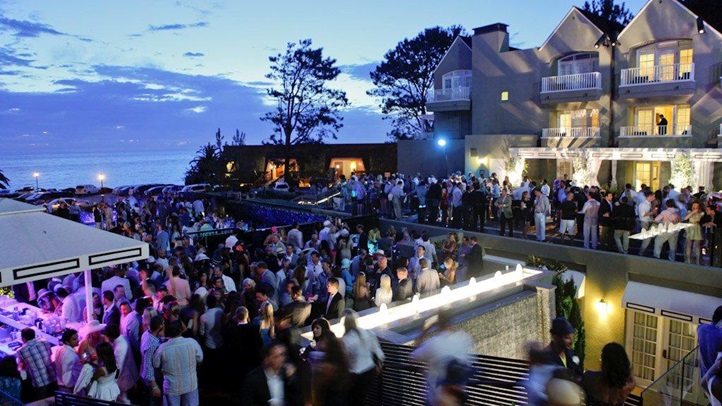 DEL MAR REVS UP: It seems like only yesterday, or a few weeks ago, at least, that you tucked your lucky horseshoe and bracelet and earrings and belt into the trunk, bidding them adieu as the summer run at the Del Mar Thoroughbred Club wrapped up. But you didn't stow them too deep down, of course, because you knew that it would be late October before you knew it and time for the Bing Crosby Season at the ocean-breezy track. The autumntime horsey hubbub brings with it many of the hallmarks of summer, from special food festivals to a splashy opening night party, and it also has the ponies, lots of top-notch ponies, and their talented jockeys. So, have you found your big hat yet, the one shaped like a giant saddle, and are you ready to trot into the fall track-close action? Then make a date for Del Mar on Thursday, Oct. 29, when the Fall Meet Opening Day party spreads out, near the sand, at L'Auberge Del Mar.
"1930s GARB": If you don't have a snood or a old-school frock, no worries, but revelers at the chic bash are encouraged to sartorially summon the era when the Del Mar Thoroughbred Club first opened for business and all of Hollywood, or seemingly so, drove down to cheer on the ponies. A three-courser of a prix fixe dinner and Big Band music are part of the evening, as well as those famous ocean views from the hotel's Sunset Terrace. If you're at Opening Date proper, there's a Hollywood Fashion Contest, which will reward goodies to the Best Dressed Couple or Debonair Man, the Most Glamorous individual, Famous Character, and Best Celebrity Look-Alike.Even if you can't kick off the Fall Meet, Tinseltown-of-yore-style, you can trot for the track where several doings outside of the races'll be happening, like...
THE BEER & CIDER FESTIVAL... and the Reggae Festival and a whole Food Truck-packed shebang. A Thanksgiving Day Fun Run is a track tradition, as are the pay-nothing concerts. As for the Fall Meet dates? Thursday, Oct. 29 is the start and the ponies head for the paddocks for the final time this year on Nov. 29, the Sunday after Thanksgiving. So, where's your lucky belt and earrings? Hope you didn't stow them too far down in the trunk following the summer season.
Copyright FREEL - NBC Local Media