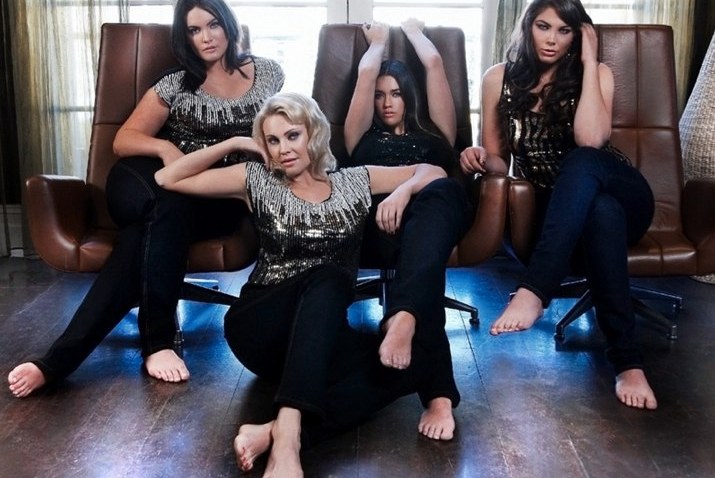 With the start of the new year, editors, designers and photographers seem to have made a resolution to get back in touch with reality; at least, when it comes to the size and shape of the average woman. Here are just a few examples of how high fashion is kicking off 2010 with a few surprising curves:
DEEP V: V magazine's January edition will be the much-talked-about "Size Issue." It will feature photo shoots with women of all shapes and sizes and two rather dichotomous covers. Particularly noteworthy is Karl Lagerfeld's turnabout from his, "no one wants to see round women," comment to his embrace of the voluptuous form, as exhibited in a photo shoot with burlesque star Miss Dirty Martini.
UNTOUCHED, UNCENSORED: Former-Miss-Universe-turned-model Jennifer Hawkins stripped down to nothing and posed nude for the January cover of Australia's Marie Claire in the name of charity. Though she doesn't come close to resembling the average American woman, the shocker for this cover was its un-airbrushed final product. Her skin tone is slightly uneven, her thigh shows a little dimpling, and natural skin creases appear around her hips, and she ends up looking totally stunning anyways.
YOU BETTER WORK: In its 2010 Edition of Reasons to Be Cheerful, Style.com wrote that fuller-figured models (i.e., sizes 4 and 6) are in high demand by photographers and stylists as we begin the new year. While the resulting photo spreads seem to be popping up solely in Australian and British magazines at the moment, there is hope on the horizon for local publications to get in the groove.
GO FASTER: San Diego's own professional stylist Vanessa Valiente wrote a blog post expressing her accolades for designer Mark Fast following his decision to use "plus-size" models on the runway. "All my female clients have money to spend and the majority of them are about a size 10. As a result, when we want to purchase something high-end we have to fight for the one size 10 in the store," writes Valiente. "So if putting fuller models on the runway and in magazines is an issue of money, I think I have the answer to the big question: The "plus size" model will sell the garment."
JEAN THING: Embody Denim released its 2010 Spring/Summer ad campaign featuring jeans, jean jackets and denim skirts designed to hug the curves of women sizes 6-26. The photos feature normal-sized women looking fabulous while flaunting their curvaceous goods, and the site offers great tips for finding the right style of jeans for your body shape.
Let us know what you think. Comment below, send us your thoughts via Twitter @nbcsandiego or add your comment to our Facebook page.