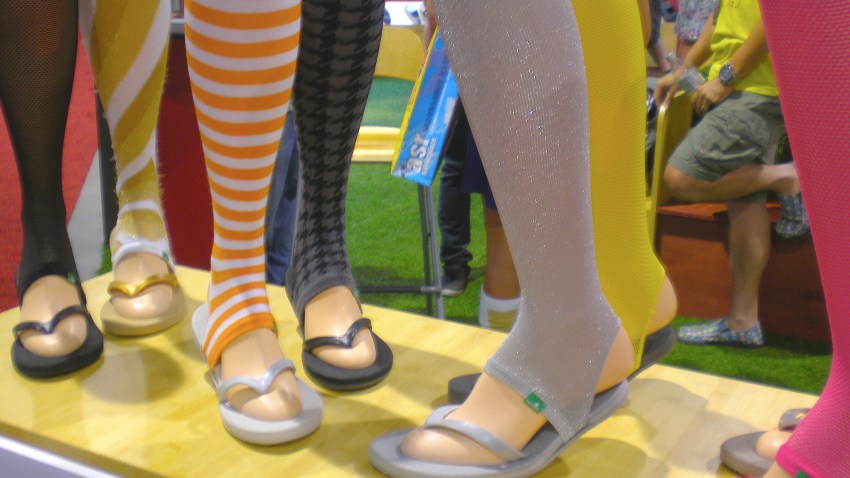 NICE KNITS: They are just now finding their way into San Diego, but Bearpaw has been rocking their stylish, cozy shoes in Orange County and Los Angeles long enough to know what's good for them. From their new cable knit slip-ons to the veritable boots with the fur, they've got comfy kicks for every occasion at prices around $40-$80 each. Find them at Forward Footwear in Pacific Beach.

ROLLER GIRL: Dakine is known for its surf, skate and snowboard gear, but they've also reserved a section of their love and attention for girl stuff. You can get gloves, headwear and clothing in women's sizes, but don't pass up their extensive line of creative bags and luggage for your clothes and your equipment. They all feature thoughtful details like suspended laptop sleeves and separate compartments for your sneakers, and they come in sturdy, stylish prints. Find them at Hansen's Surf Shop in Encinitas.

BOY FROM IPANEMA: Like San Diego, there are many parts of Brazil where a bathing suit is a year-round staple. As a result, Osklen never stops creating beautiful, classy beachwear for men and women that is comfortable, yet still pulled-together. They are looking for a retailer in San Diego, so ask your favorite boutique to bring them in!

SOCKSUAL: Flip flops often double as slippers, but generally lack their warming qualities. Until now, that is. Sanuk has just released their TubeFlops, a line of flip flops for women with colorful, knee-high leg-warmers attached. It sounds funny, but they're actually pretty cute and they'd definitely make a statement with the right outfit. You can buy them in some retailers now, but they'll available online after September 21.

JOCK CHIC: Whether you're working up a sweat or working through a good book, Roxy Athletix can keep you looking fresh and bright with their signature beach style. Check them out at the Roxy @Quiksilver stores Downtown and in La Jolla.

ODDS & ENDS: Uno's fun, magnetic jewelry lets you create multiple looks from a simple strand of beads, Aiaiai sells earbuds with interchangeable fittings so you can actually find a pair that fit in your ear, and Dynomighty makes creative wallets out of Tyvek that are water resistant, expandable, writable, recyclable and just plain cool-looking.