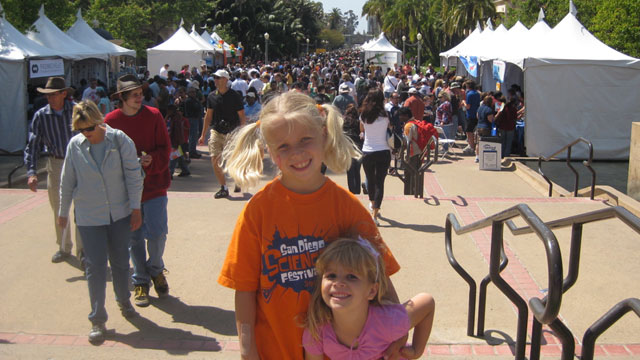 Scientists need proof. One look at Balboa Park Saturday and it was clear, science is alive in San Diego.
The hypothesis organizers of The First Annual 2009 San Diego Science Festival set out to prove is that San Diegans would attend a month filled with science activities around the area and would converge on Balboa Park for an all-day Expo on April 4, 2009.
You be the judge. Here are the facts:
There was a five-mile line of cars waiting to get off the freeway for the Expo.
An estimated 100,000 people filled the park. Many wore bright orange shirts.
San Diego police closed the park as a precaution at one point Saturday
Saturday's event with hands-on experiments, exhibits and performances was just the grand finale. In all, the Festival provided 500+ free and entertaining science outreach activities to Greater San Diego County.
NBC 7 Community
NBC 7 in our community
Festival programs included Operation Balboa The Largest Game of Operation, Science Career Fair, Engineering at the Nanoscale, Science of Wine, Physics of Sailing, Evolution of Music, Science of Chocolate, Linguistics of Science, Mathematics of Juggling, Science of Saving Species, Chemistry of Love, Future of Surgery, Science of Comedy, Science of Earthquakes, and much more.
The primary goal of the San Diego Science Festival was to inspire kids in 400+ primary and secondary schools.
When one pair of preteen boys was asked what some of the highlights of Saturday's event were, they had a tough time narrowing it down. Eventually they suggested the algae that omits CO2. That would probably be the best thing they saw that day.
What did you enjoy? Leave your comment below or send in your images to isee@nbcsandiego.com.