5/18: They're Back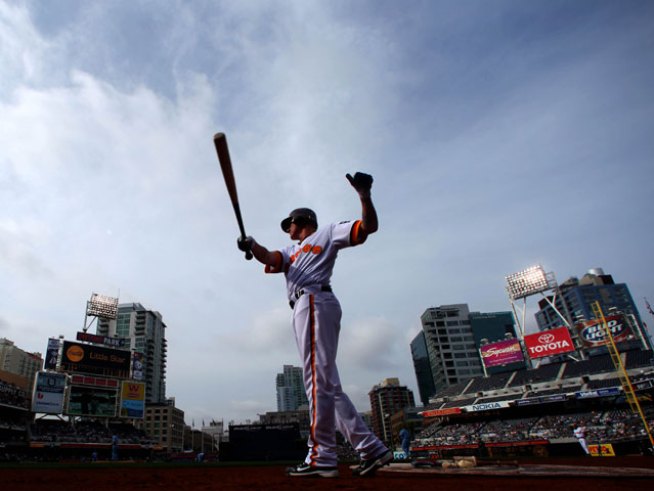 Getty Images
Mat Labos of the San Diego Padres warms up in the on-deck circle during a game against the Atlanta Braves at Petco Park on April 15, 2010 in San Diego, California. All Major League players joined in wearing #42 today in honor of Jackie Robinson, who broke the color barrier in baseball when he debuted with Brooklyn Dodgers in 1947. (Photo by Donald Miralle/Getty Images)
NOT SO JOLLY GIANTS: The Giants are back for more! Watch as the Padres take on the San Francisco Giants for the eighth time this season at Petco Park. Depending on how close you'd prefer to be to the dugout, tickets range from $10 to $63. First pitch is at 7:05 p.m.
SAVING SARAH SILVERMAN: Foul-mouthed, Sarah Silverman is presenting a night of comedy with some of the members of her comedy program, The Sarah Silverman Program. Watch as Tig Notaro, Steve Agee and Laura Silverman have you rolling on the floor laughing. Admission is free and it's all going down at The Loft. Laughs will begin promptly at 8:30 p.m.
DON'T RUFFLE YOUR HORSE FEATHERS: A mixture of classical strings like cello and violin with acoustic guitar creates the beautiful harmonic sound that is Horse Feathers. Don't miss their show, along with accompanying acts Dawn Landes and Joel P, at The Casbah at 8 p.m. Admission is $8 to $10.
Stay connected to what's going on around town by signing up for our daily newsletter.