I-805 Construction Blocked Stranded Driver from Shoulder: CHP
A driver trying to get a disabled car to the shoulder was blocked by cement barriers put in place by construction project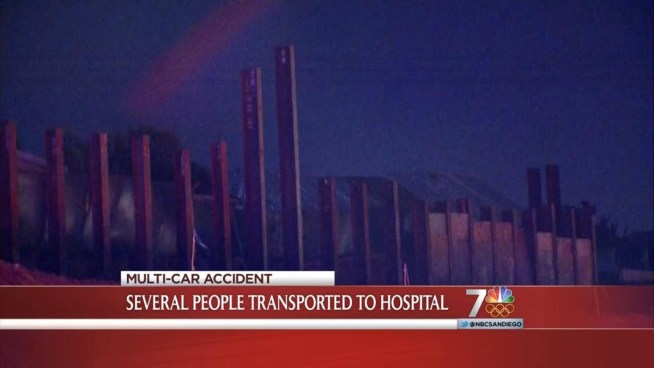 Traffic was snarled Saturday night after a chain reaction crash on northbound Interstate 805 in the South Bay. As NBC 7's Candice Nguyen reports, the crash appears to have been caused by a woman who broke down and had nowhere to pull over.
Construction along a San Diego highway blocked a driver from pulling over to the shoulder and caused a multiple-vehicle collision, officials said.
At least four people were injured in the collision along northbound Interstate 805 near Main Street in Chula Vista.
The crash happened around 8 p.m. when a woman driving a white sedan began experiencing car trouble and tried to pull over to a safe place.
Cement barriers have been in place along this stretch of I-805 as part of an ongoing construction project to add 28 miles of express lanes extending from the Interstate 5/805 merge south to State Route-905.
"She was put in a very difficult spot without any shoulder to pull over," said California Highway Patrol Officer Pakko Mendez. "I think she did the best she could as far as I could tell."
Her disabled car led to a four-car chain reaction pileup injuring at least four to five people. One person needed to be pulled from a vehicle, officials said. The CHP described the injuries as minor.
The collision caused traffic delays along northbound I-805.
Meanwhile, the CHP is still investigating who or what is at fault in the incident. The woman in the white sedan is not facing any charges at this time.