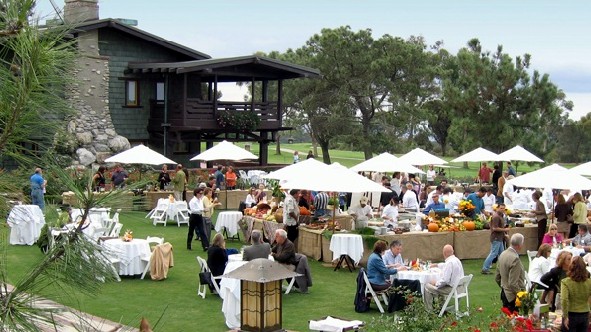 Lodge at Torrey Pines
Celebrate the Craft at Lodge at Torrey Pines on Sunday, Oct. 30.
OCTOBER AL FRESCO: As the first full month of autumn winds down, people are less inclined to be outdoors. Well, perhaps not little goblins and goblinettes, but the foodly picnics and wine tastings are slightly less prevalent than they were just a few months back (of course, this is California, where we never fully shut the door on outdoor living, regardless of season). And when the outdoor setting happens to be the Arroyo Terrace at the Lodge at Torrey Pines, we are there. Well, we're often at the La Jolla landmark in our minds, but when we can be there to watch chef demos and dine on interesting dishes flavored with regional ingredients and sip pinots, we try to be. If you feel the same about the setting, and al fresco food and wine to-dos, get to the Lodge on Sunday, Oct. 30 for Celebrate the Craft.
IN ATTENDANCE: Several Golden State wine houses will be lining up the glasses; think Palumbo Family Vineyards from Temecula and Zaca Mesa of Santa Barbara County. And the chefs will include Antonio Friscia of Stingaree and Dish and Christian Graves of J Six. A ticket to Celebrate the Craft is $75, and there are a few stayover packages going on, too. Figure it is a fine and festive way to spend the final Sunday of October.