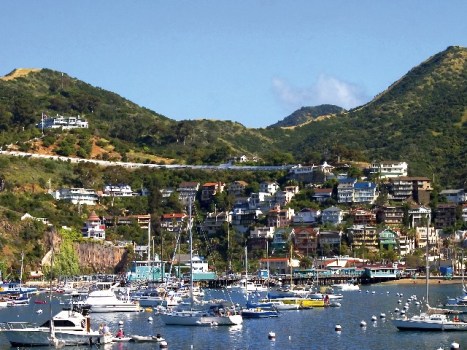 Catalina Island Chamber of Commerce
Run all over pretty Catalina on Saturday, March 12.
ISLAND MARATHON: First off. The 2011 Catalina Marathon, which is on Saturday, March 12, is described as "a hilly, challenging Marathon." But. You know that, right? You know our amazing, just-22-miles-away ocean idyll is not one of those stretchy sand-bar-ish islands often depicted in the movies (and often with one fake palm tree in the middle)? We're just saying Catalina Island is famously not flat, and any runner who signs up for what is sure to be a majestic and gorgeous run has to love the ups and downs, over and over.
DETAILS: One of the main things to know about the event is it will go interior, into the wilder island, so you'll get to see some new and rarely viewed spots, or new to you, we expect. A buffalo sighting or two is even hinted at. Oh yeah. Get all your sign-up details, and to-dos, at the Pacific Sports site.