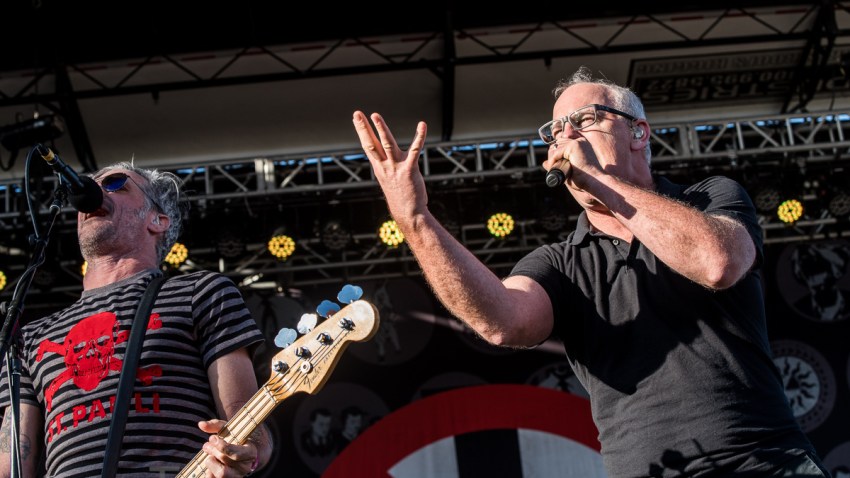 So many shows and so little time. Today's lineup of shows is kind of insane after the weekend we've already had, but the gods of tour routing and booking have spoken, and you've got to make some tough choices. Will it be a sermon from punk intellectuals Bad Religion at Soma or the politically outspokenness of Morrissey at Pechanga Arena? (And where will you park if both lots are full?) Or maybe you're curious about Vivian Girls, who dropped their first record since 2011 and are playing the Casbah? Then you've got Dwarves at Soda Bar, another sold out Angels and Airwaves show at House of Blues and Countryfest up in Del Mar -- and that's just a whole lot of goodness to get into. When are we ever supposed to sleep?
Sunday, Oct. 6:
Oktoberfest @ German American Society, El Cajon (12-9 p.m.)
La Mesa Oktoberfest @ La Jolla Village
Bad Religion, Dave Hause & the Mermaid, Emily Davis & the Murder Police @ SOMA
Vivian Girls, Great Grandpa, Reckling @ Casbah
Dwarves, Dfmk, Slaughter Boys, Stalins of Sound @ Soda Bar
Morrissey, Interpol @ Pechanga Arena
Angels & Airwaves, the New Regime, Charming Liars @ House of Blues (sold out)
Bit Maps, Strange Ages, Adeumazel @ Whistle Stop (5 p.m.)
KSON Countryfest featuring Billy Currington, Blanco Brown, Jon Langston, Dillon Carmichael @ Del Mar Arena
Clowns @ Tower Bar
Uptown Rhythm Makers @ Panama 66 (6-8 p.m.)
The Beer Mugs @ Panama 66 (2-5 p.m.)
Marc Broussard, Samantha Fish @ Belly Up
Nothing,nowhere., Guccihighwaters, Curtis Heron @ Voodoo Room, House of Blues
The Living End, Wild Roses, the Dodges @ Brick by Brick
Country Brunch Live with Whiskey Ridge @ House of Blues
Domingos De Band with Grupo GR2 @ Cafe Sevilla
Anastasia @ Civic Theatre (1 p.m. & 6:30 p.m.)
Acoustic Sundays with Karlos Paez @ Border X Brewing (3 p.m.)
Big Mountain, SM Familia, DJ Ital @ Music Box
Rafael Payare's Opening Weekend: Mahler 5 @ Symphony Hall
Colour @ Tio Leo's
Los Pinches Pinches, the Rebel Set, Nephews and a Niece @ Bar Pink
Red Room Burlesque @ Bancroft Bar (6 p.m.)
Roman & the Cowboy Surfers @ Bancroft Bar (9 p.m.)
Project Edeline presents Bending the Arc @ The Conrad
Franco Escamilla @ Balboa Theatre
Jazz Jam with Anthony Ortega @ Mr. Peabody's (6 p.m.)
Jimmy Webb: an Evening with Jimmy Webb @ Martini's Above Fourth
Authentic Sellout @ Winston's (2 p.m.)
Showstoppers Talent Contest @ The Merrow (5 p.m.)
Destructo Bunny, Nick Gray, Flomads, Atlantis Rizing, the Roomy @ The Holding Company
Chamber Music Showcase @ All Saints Episcopal Church (free, 4 p.m.)
Brit Pop Nite @ Blonde
Dulaney & Co. @ Pour House (9 p.m.)
Salsa Sundays @ Queen Bee's (all ages)
Coastal Cities Jazz Band with Willie Murillo @ MiraCosta College
Dia de los Muertos Celebration @ Westfield Plaza Bonita (free, 3 p.m.)
Deep Tech SD presents Baronhawk Poitier @ Kava Lounge
Reggae Sunday @ U-31
Uptown Top Ranking @ The Office
Passngers @ Navajo Live
Acoustic Alchemy @ Humphreys Backstage Live (6:30 p.m. & 8:30 p.m.)
Reggae Sunday @ Spin
Rosemary Bystrak is the publicist for the Casbah and writes about the San Diego music scene, events and general musings about life in San Diego on San Diego: Dialed In. Follow her updates on Twitter or contact her directly.