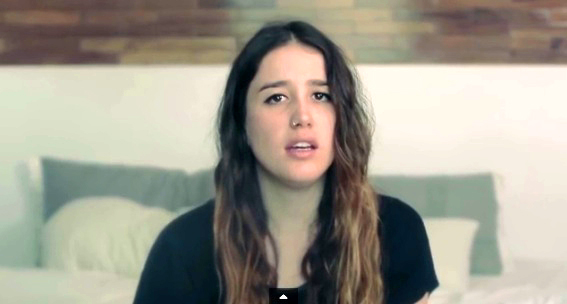 Earlier this month, Vanessa Zamora premiered the music video of "Te Quiero Olvidar," the second single off Hasta la Fantasia.
In the clip, the Tijuana-born and -raised (now living in Guadalajara) singer/songwriter stars as a young woman dealing with loss of her lover, who is played by actor Dario Zuniga. The bittersweet, melodic song is about the mental dynamic of loss and love. This feeling is captured well in the simple video. Anyone who has dealt with heartbreak and loss knows all too well the sanctuary of one's own bedroom, which is where the video is primarily shot in. Zamora's quiet but touching lyrics and soothing repetition of "na-na-na-na" are heard loud and clear.

"The video shows my interpretation of the hardship of wanting to forget to someone," Zamora wrote on her Facebook page. "Memories that come and go, they go away and return, but in the end, everything stays in memory."

Prior to the release of the official music video, Zamora, 22, held a lyric video competition for the same song. On April 22, she announced that Victor Aguila of Honduras was the winner. The video director then posted on YouTube, "Thank you, Vanessa. So happy to have participated and give my vision to your beautiful song."

Watch Vanessa Zamora's "Te Quiero Olvidar" here.
Dita Quinones is a multimedia journalist born in Tijuana with a passion for Latin alternative and hip-hop music news. Her main goal is to uplift and inform so that the Latino, Filipino and hip-hop community get knitted into the fabric of American history. In addition to SoundDiego, she contributes to Latina, Fox News Latino, Poder, VidaVibrante, San Diego CityBeat and HipHopDx. She is also the founder of the infamous music and politrix blog GN$F! Follow Dita on Twitter or on Facebook.