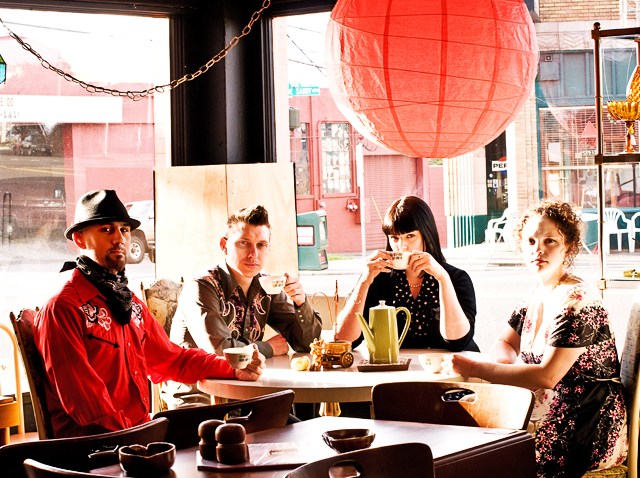 The Prids may not be a household name, but they are survivors, and they play the Radio Room on Wednesday.
David Frickerson and Mistina La Fave started the band 10 years ago in Missouri. First, they fell in love. Then, they got married. Then, they got divorced. They moved around for awhile, testing cities, looking for something that wasn't the rural South. They settled in Portland, Ore., then they recruited Maile Arruda and Lee Zeman to round out the band.
Despite finally setting down roots, Frickerson, La Fave and the Prids continued to be tested. In 2008, they were involved in a catastrophic van accident in which all four members were injured and their possessions destroyed. But even that didn't stop them; fans and friends donated more than $16,000 for medical costs and new instruments, and the Prids came back to release Chronosynclastic.
Released last week on L.A.'s venerable Velvet Blue Records, Chronosynclastic has an urgency, a sense of impending chaos held together only by the band's shared tribulations. Couple this sound with Frickerson and La Fave's harmonized vocals, and the mind begins to make connections; there are subtle shades of Arcade Fire, early Pixies, the Smiths ...
The Prids have been praised by Built to Spill's Doug Martsch ("The way [Mistina] and David sing together ... they rock"), as well as Scott Ford of the Twilight Singers ("They prove once again that good music ... deserves to be heard"). And these aren't just platitudes. Give one listen to their first single, "In the Fall" (MP3) -- it features backing vocals by Martsch -- and you'll quickly see what Martsch and Ford are talking about.
Better yet, go see for yourself at the Radio Room on Wednesday.
T. Loper is a writer for the San Diego music blog Owl and Bear.