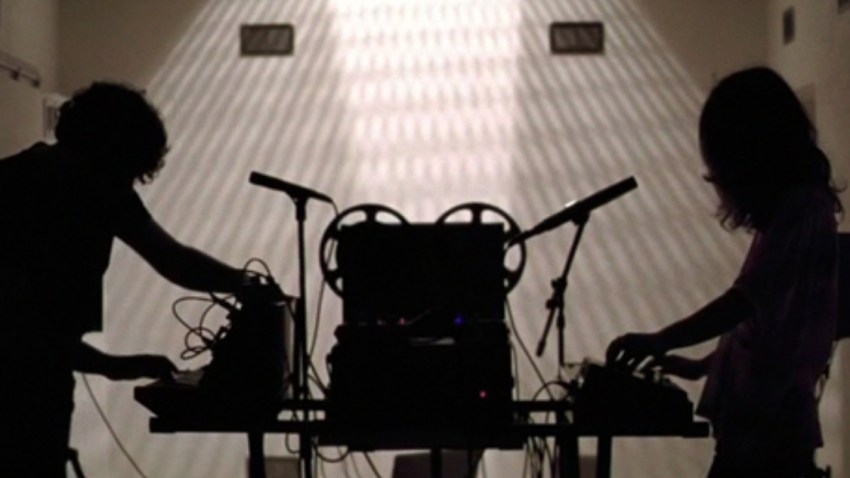 When you see Spanish duo Svper onstage with their head-to-head synths, you anticipate a battle of the sexes between Sergio Perez and Luciana Della Villa. Instead, you find audio romanticism between a male and female musician creating modern day krautrock synthesized en Español. Typically, "krautrock" refers to a diverse mix of post-psychedelic jamming and moody prog-rock, mixed with cues taken from classical music and experimental jazz. In that vein, Svper create a perfect kaleidoscopic mesh of Kraftwerk and '90s rave sounds beaming with the whispered temptress vocals from Della Villa as seen in "Brillar" music video.

Originally named Pegasvs, the duo were forced to change their name last year for legal reasons just before playing Mexico's Vive Latino. Despite the name change, they still are one of Spain's rising buzz bands with a solid music hustle. The duo has toured throughout Spain, consolidating their presence in the country's most iconic festivals; from Barcelona's Primavera Sound, Sonar and Faraday Festivals to Galician Festival Do Norte, Castilla's Ebrovision and Madrid's El Dia de la Musica. All this before closing last year winning Best 2012 Album and Single in Red Bull's Panamerika.

Fresh from 2014 SxSW, Svper made its West Coast debut in Los Angeles on March 19. Local Latin Alternative music promoter, Mucho San Diego, brings the duo to headline the Griffin on Friday for its second Cali stop. Svper is currently working on their sophomore effort, with Primavera Sound as their international booker. In the meantime, and in-between time, the discerning krautrock music listener can get the perfect introduction to Svper with their five track EP, Svper Remezclas, which features five remixes from producers from Chile, Mexico, U.S. and Spain, celebrating their self-titled debut, Pegasvs.

Svper performs with special guests Fesway and Mirror Pop at the Griffin on Fri., March 21. Get tix here.
Dita Quinones is a multimedia journalist born in Tijuana with a passion for Latin alternative and hip-hop music news. Her main goal is to uplift and inform so that the Latino, Filipino and Hip-Hop community get knitted into the fabric of American history. In addition to SoundDiego, she contributes to Latina, FOX News Latino, Poder, VidaVibrante, San Diego CityBeat and HipHopDx. She is also the founder of the infamous music and politrix blog GN$F! Follow Dita on Twitter or on Facebook.