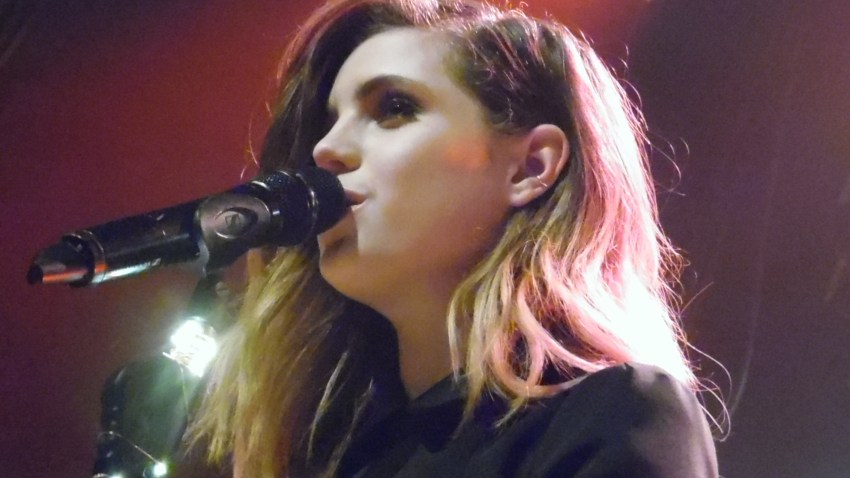 The weekend is finally here, which means the only difference is that you get to sleep in after a night out. Kicking things off Friday are 21 Pilots, who play a sold-out show at the Open Air Theatre, and if you have a ticket, don't miss pop darlings Echosmith, who are providing musical support. Misterwives return to town with a show at the Observatory North Park, or hit Mission Bay by boat with the Rock the Boat Cruise. There are a lot of fun choices this Friday night, but my pick for the night has to be the Districts, who played at the Casbah earlier this year on a night when I had to work elsewhere, so this is like a do-over for me. They've been moving up the charts with lots of love from satellite radio, and it's only a matter of time before they break into the mainstream, too.
Friday, Oct. 16:
The Districts, Sun Club @ The Irenic
Marian Hill, Heavy Mellow @ Casbah (sold out)
21 Pilots, Echosmith, Finish Ticket @ Open Air Theatre, SDSU (sold out)
Misterwives, Cruisr @ Observatory North Park
Rock the Boat Cruise, with Tomorrows Bad Seeds, Ease Up, Grizzly Business, the Verigolds, Digital Lizards of Doom, Kid Wilderness, DJ Mancat, DJ Raychill Frank @ William D. Evans Riverboat on Mission Bay (Use promo codes "verigolds" or "rocktheboat" for a discount)
Voodoo Glow Skulls, Phenomenauts, China Wife Motors, Oceanside Sound System @ Soda Bar
The Wind Playing Tricks @ Ken Club
Behind the Wagon, the Sickstring Outlaws, Abe West @ The Merrow (watch our Spotlight segment on the Sickstring Outlaws)
Sarah McQuaid @ Templar's Hall in Old Poway Park
Luke Bryan, Randy Houser, Dustin Lynch @ Sleep Train Amphitheatre
Chris Hillman and Herb Pedersen @ AMSD
Abstracter, Monochromacy, Dead Ghosts @ The Treehouse
Junior Tthe DiscoPUNK @ Bar Pink
The Garden (album release) @ Che Cafe
Art Blakey, with Matt Witek and Christopher Hollyday @ Dizzy's
Atomic Groove Happy Hour @ Belly Up (5 p.m.)
Fishbone, Monophonics @ Belly Up
Spazzkid @ The Loft
The Village Squares, the Casey Hensley Band, Vida Blue @ Music Box
Musica en la Plaza @ California Center for the Arts, Escondido
Cult Vegas, Mars & the Massacre, Plastik Deer @ The Balboa
Acid King, Giant Squid, Mala Suerte, Trapped Within Burning Machinery @ Brick By Brick
America, Lisa Sanders & Brown Sugar @ Humphreys Concerts By the Bay
Daisy O'Connor, Lindsay & the White Lies @ Java Joe's
Common Kings, Sammy J, Tribe of Kings Soundsystem @ House of Blues
Jonny Craig, Travis Garland, Kyle Lucas @ House of Blues Voodoo Room
Kitty Plague (CD release), Jovi & the Issues, Swords of Fatima @ The Bancroft
Lee Churchill @ U-31
Teagan Taylor @ Croce's Park West
Monette Marino @ Humphreys Backstage Live
Timeshares, Signals Midwest, Western Settings @ Tower Bar
Project Out of Bounds, Rubbish, Revival @ Winston's (9:30 p.m.)
Walter Lure (of the Heartbreakers), the Zeros, Dirty Eyes @ Til-Two Club
F---ing in the Bushes with Rob Moran @ Whistle Stop
Dirtcaps @ Fluxx
EC Twins @ Omnia
Tiga @ Bang Bang
DJ Spryte @ Parq
Junior theDISCOpunk @ Henry's Pub
Funks Most Wanted @ Tio Leo's
Something Different @ Kava Lounge
Ent. Kings, DJ R2 @ Gallagher's Irish Pub
Club Musae @ Boar Cross'n
B Foundation, Reeform & Sandollar @ 710 Beach Club
Jack Russell's Great White, Sledd, Di Vad, Big Toe @ Ramona Mainstage
Rosemary Bystrak is the publicist for the Casbah and writes about the San Diego music scene, events and general musings about life in San Diego on San Diego: Dialed In. Follow her updates on Twitter or contact her directly.