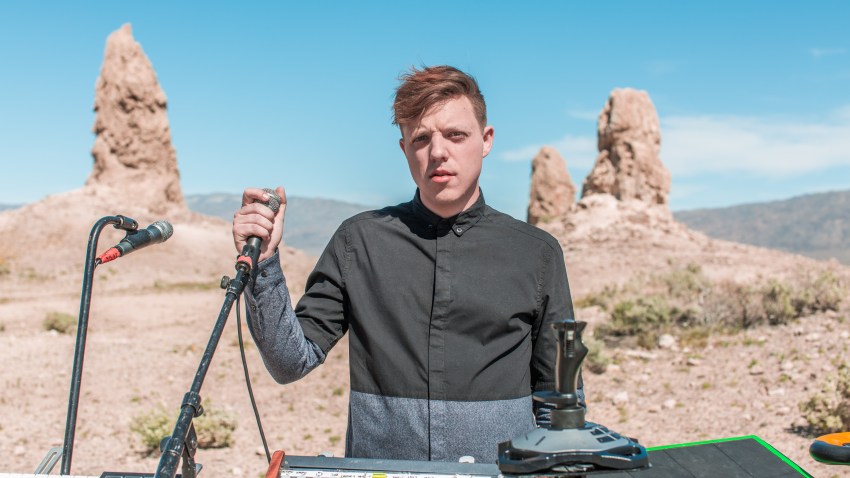 We hope everyone enjoyed Thanksgiving with people that matter in your lives, and while we hope that you enjoy the beauty of San Diego today, know that this Friday night has plenty of awesome shows to catch. At the Casbah, X kicks off the first of two nights with Mike Watt and the Secondmen. Considering the band performed twice this spring at the much larger Observatory North Park, these are very special and intimate shows, not to mention these are the first shows with Billy Zoom after he was diagnosed and treated for cancer this year. Meanwhile at the the Music Box, Glassnote Records' Robert DeLong performs at Music Box with opener Coleman Hell, who we loved earlier this summer at Quartyard. Copeland and Eisley have a sold-out show at the Irenic, Guttermouth is going to get crazy at Soda Bar, and Nashville Pussy get gritty at the Hideout. All the way down the line, there are great options for the night, so get out, be safe, and catch some live music this Friday night.
Friday, Nov. 27:
X, Mike Watt and the Secondmen @ Casbah
Robert DeLong, Coleman Hell @ Music Box
Copeland, Eisley, We Are the City @ The Irenic (SOLD OUT)
Guttermouth, Blacklist Royals, Skipjack, Strike Twelve @ Soda Bar
Nashville Pussy, In the Whale, Chica Diabla @ The Hideout
'80s vs. '90s @ Bar Pink
Darwin Deez, Charly Bliss @ Voodoo Room, House of Blues
GTA, K Camp, Wax Motif @ House of Blues
Abbey Road & Jumping Jack Flash's Beatles vs. Stones @ Belly Up
Steal Dawn Happy Hour: A Cancer for College Benefit @ Belly Up (5 p.m.)
Little Heroine, Giant Surprise, the Anomaly @ The Balboa
Brian Levy with the Mikan Zlatkovich Trio @ Dizzy's
Last Comic Standing @ Balboa Theatre
Carmen by George Bizet @ California Center for the Arts, Escondido
Festival of Trees @ California Center for the Arts, Escondido
Maruta, Vattnet Viskar, Temblad, Fermentor @ Til-Two Club
Blam Blam Fever with Rob Moran (ska/dance/rocksteady) @ Whistle Stop
Francisco Pawluszek @ Tin Roof
Songwriter Showcase @ Java Joe's
Privatized Air, Off Center, the Holes @ The Bancroft
Chet Cannon & the Big Blue @ Tio Leo's
Noise Show @ Che Cafe
Blue Largo @ Croce's Park West
Lotus the Band @ Humphreys Backstage Live (5 p.m.)
Beta Maxx @ Humphrey's Backstage Live (9 p.m.)
Paperback Writer: The Beatles Experience @ Sycuan
AOK, Crown Rootz and Special Blend @ Winston's
Deejay Al @ Fluxx
Ashley Wallbridge, Fergie @ Omnia
DJ E-Rock @ Parq
Cassian, Boys Don't Disco @ Bang Bang
Real Eyes presents Black Friday @ Kava Lounge
The Stingrays featuring Kevin Kyle @ Gallagher's Irish Pub
Slower, Miles Ahead @ 710 Beach Club
Fine Cut Bodies, Supersillyus @ Spin
Rosemary Bystrak is the publicist for the Casbah and writes about the San Diego music scene, events and general musings about life in San Diego on San Diego: Dialed In. Follow her updates on Twitter or contact her directly.