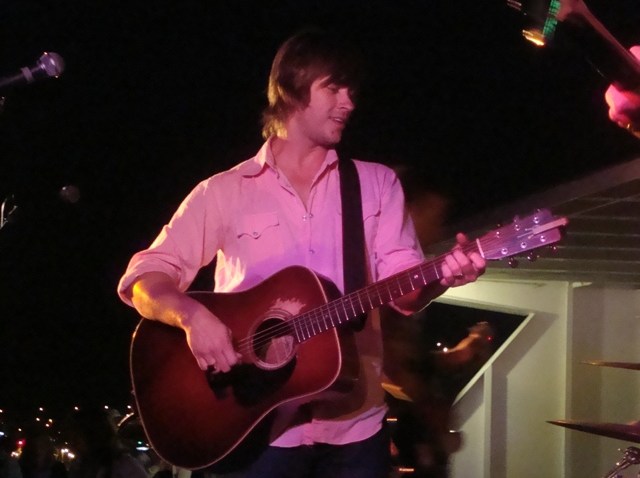 There are certain bands and artists who, for whatever reason, just skip San Diego on their tours. Then there are others, like the Old 97's and their fearless leader, Rhett Miller, who make it a point to hit our market tour after tour.
This is certainly a win for us, but if you've never had the pleasure of seeing the band, go rent "The Breakup" with Jennifer Aniston and Vince Vaughn, and see how their characters fought over pre-breakup tickets to see the Old 97's. While a fictional movie, the sentiment is very real. The band's shows are always amazing, with long sets to cover its extensive catalog of music. This is certainly a not-to-be-missed show.
Wednesday, Jan. 19:
The Old 97's, Langhorne Slim @ Belly Up
White Sea, White Apple Tree, Gun Runner @ Casbah
Jagermeister Music Tour, featuring Buckcherry, Hellyeah, All That Remains, the Damned Things @ 4th & B
Occult Blood, Hing, Ivens, Zsa Zsa Gabor, DJ 10shun @ Soda Bar
Robby Krieger Jazz Band @ Anthology
Lady Dottie and the Diamonds @ Gallagher's
L.E.D. presents Le Castle Vania @ Voyeur
Jesse LaMonaca @ Hennessey's PB
Salt of the Earth Prents Brutal Truth @ Ruby Room
Wreck Shop Wednesdays @ The Office
El Monte Slim @ Riviera Supper Club
Dan Bern @ Lestat's
Elliott Levin and the Seesaw Ensemble, Ogd_S(11) Translation Has Failed @ Tin Can
Safety Orange @ Hennessey's Gaslamp
The Soul Persuaders @ Humphreys Backstage Live
Club Kingston with Makka, DJ Carlos Culture @ Winston's
Rhythm Jacks @ Patrick's II
Acoustic Fooks @ Dublin Square
Live Comedy @ Eleven
Northstar @ Coyote Bar & Grill
Gilbert Castellanos with the New Latin Jazz Quintet @ El Camino
Now.Hear.This! with DJs Rafter Roberts and Timothy Hines @ Whistle Stop
Sadistik, Sarx, D Dove, Rick Scales, Blest Brando @ Kava Lounge
Wednesday Night Shakedown @ Henry's Pub
Frankie-Dee & Funk-Natra @ The Kraken
Dig the Scene, featuring jazz by Prof. David Borgo, Bob Long and guests. Spoken word by Professor Stephen Potts, Ted Washington, Chris Vannoy, Cassidy Curl and more @ UCSD Price Center
Sue Palmer @ Croce's
Simply Dynamite Wednesdays, featuring DJ Claire @ Starlite
Firehouse Swing Night @ Queen Bee's
Gene Warren @ McP's Irish Pub
Southern Storm @ Second Wind Navajo
Thirty/30 & Draind @ Second Wind Santee
Rosemary Bystrak writes about the San Diego music scene, events, and sometimes whatever creeps into her head on her music blog San Diego: Dialed In. Check it for even more listings. She also provides social media content for the Casbah. Follow her updates at twitter.com/sddialedin or submit your music listings.