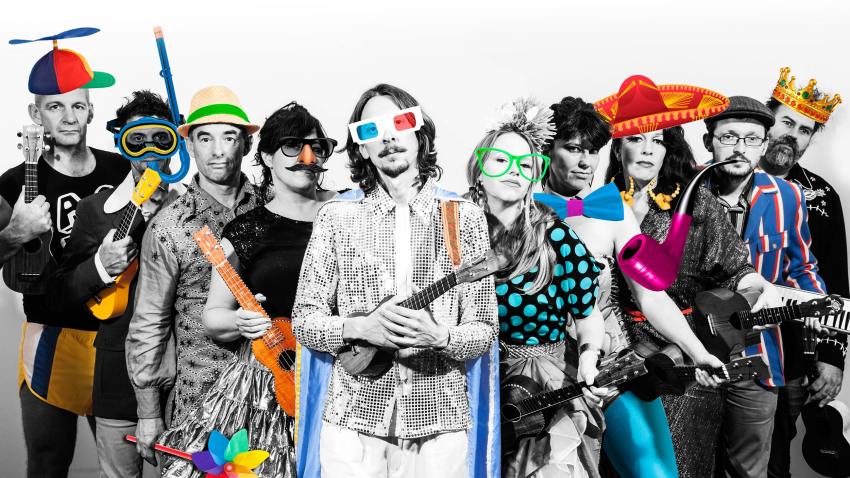 There aren't many things I haven't seen in music. Sure, there are hundreds of bands I'd like to have seen in their prime or whatever, but I just mean that sometimes that thing they say about all music being borrowed from the past is probably true. Like the first time I saw an indie-rock marching band, I was kinda blown away. Or the time I saw Stomp and was shocked at the ways they used ordinary items to perform. Well, Tuesday night proves I haven't seen it all, because I haven't ever seen an international ukulele orchestra, and to be honest, I can't think of anything that sounds more delightful. If you can, make the trek to California Center for the Arts, Escondido, to catch a bunch of Kiwis on ukulele. If not, we've still got the usual in live music around town. Declan Halloran's band, the Hand of Gavrilo, is at Casbah, while Bullet for My Valentine is at House of Blues, and the senior Halloran hosts his local Tuesday at the Merrow.
Tuesday, Feb. 2:
Wellington International Ukulele Orchestra @ California Center for the Arts, Escondido
The Hand of Gavrilo, Headphone, Cloudside @ Casbah
Bullet for My Valentine, Asking Alexandria, While She Sleeps @ House of Blues
Wasted Days, the Friends, Dead Rosemary Blue @ The Merrow
Bobby Bradford, Vinny Golia, Mark Dresser with Ecosono Ensemble featuring Glen Whitehead and Matthew Burtner @ The Loft, UCSD
The Crossing, Essex Class, Bad Kids @ The Bancroft
Tiki Two's Day featuring Mr. Adrian Demain and Ms. Susanna Kurner @ Bar Pink
Seeker, Left Behind, Great American Ghost, JasonXVorhees @ Soda Bar
Missy Andersen @ Humphreys Backstage Live
Open Mic hosted by Gaby Aparicio @ Java Joe's
Ryan Montbleau and Scott Pemberton @ Winston's
Train of Thought @ Queen Bee's
Rockabilly Tuesdays with Big City Dawgs @ Henry's Pub
High-Tech Tuesdays @ Kava Lounge
Tape Heads, Roots of a Revival @ 710 Beach Club
Rosemary Bystrak is the publicist for the Casbah, the content manager for DoSD, and writes about the San Diego music scene, events and general musings about life in San Diego on San Diego: Dialed In. Follow her updates on Twitter or contact her directly.