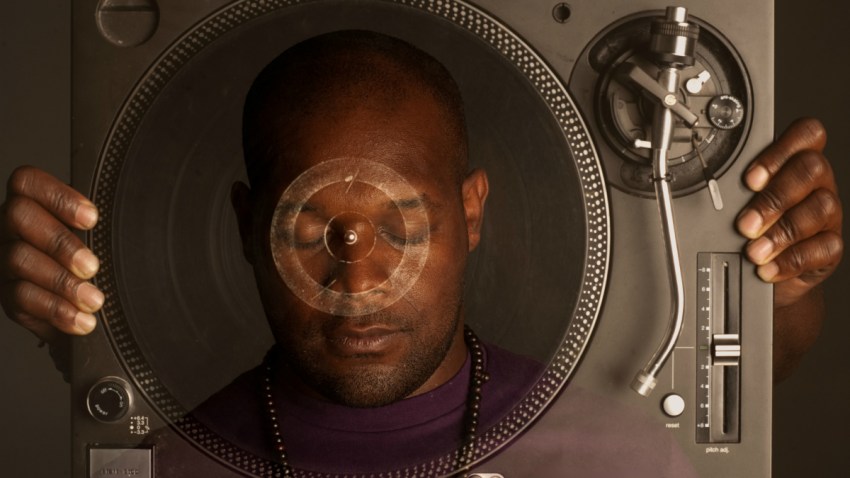 Jason Kibler (aka DJ Logic) is not your typical DJ. The Bronx native's nearly 25-year career is every bit as eclectic as his massive record collection.
Starting out in early '90s R&B'ers Eye & I, Kibler formed a life-long friendship with Living Colour's Vernon Reid after the guitarist guested on one of the band's tracks.
The two would pair again on Kibler's true debut, the hip-hop/jazz mash-up of 1999's "Project Logic," and once more with their partnership in the Yohimbe Brothers.
But it was Logic's work on Medeski Martin and Wood's 1998 Blue Note debut, "Combustication," that cemented the DJ's readiness to collaborate with musicians from any genre. And he's stayed true to the philosophy, working with everyone from the Grateful Dead and Christian McBride to Charlie Hunter and G. Love.
"It's always good to see musicians and DJs collaborating," Kibler recently told SoundDiego by phone from New York. "And it's great when it goes both ways – DJs learning the music, and musicians learning aspects of DJing. It's good to see that whole thing gel. Growing up, I had a keyboard and I played clarinet. I've always been excited about collaboration. It's an incredible feeling to contribute ideas to something musically amazing."
Kibler's most recent collaboration finds him paired with the Earful - a San Diego funk collective featuring members of the Mars Volta and B-Side Players. Nominated for Best Jazz Artist at the 2013 San Diego Music Awards, the Earful are ending their current West Coast tour with shows featuring Logic. That includes a tour-closing stop on Saturday at Winston's Beach Club in Ocean Beach.
"I've known those guys for a while now," said Kibler. "I'm a big fan of their music and a big fan of the guys in the band. Plus, the timing was right for us to do something this summer."
Kibler is already working on follow-ups to last year's releases of "Are You Ready," a more hip-hop-centric solo album, and "Chillin' in Batumi," an album he made with Georgian pianist Beka Gochiashvili. DJ Logic dates will continue throughout the year, and the turntablist is always working on a steady stream of remixing and production work.
"I just take it as it comes," he said. "There's a lot of music out there. I'm always interested in learning, no matter how much I do, or how many styles I play. I'm always keeping it open to exploring more and more, and challenging myself. I just love music."