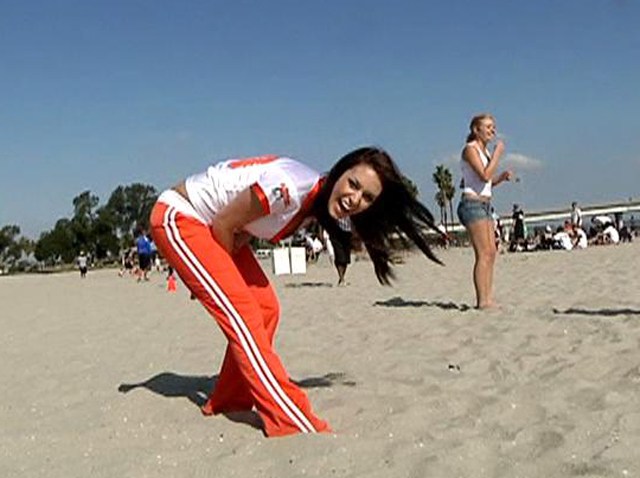 It was a beautiful day in Mission Beach. The sun was shining, the young and restless were out having fun and the Hooters girls were playing in the sand.

For the second year, VAVi Sport & Social Club held its sand soccer and sand flag football tournament at Mariners Point.

"Basically we defined Hooters as being the perfect partner for this. We just knew that the tournament was going to be more male based, so why not spruce it up a little bit by adding some beautiful girls to the mix," Keith, a VAVi spokesperson, said.

We certainly didn't find anyone who thought it was a bad idea.

Organizers are trying to make their events similar to Over the Line. They want more teams to sign up and want to add a concert element to next year's events.

"Right now, we've got around 300 people this year. It has about doubled from last year. For next year, we're looking to have about 600 – 700 people, then within the next few years we want to have thousands of people taking over the beaches for these events," Keith said.

Kyle Delaney just moved to San Diego and figured what better way to meet people and get a little exercise than play a little sport in the sand.

"Our team … had zero preparation. I didn't know anybody on the team until we got here today. There was a little practice before hand, but it's all good. We're out here just to play and have a good time," Delaney said.

Kristin Grande was apparently celebrating a special day with her friends.

"Our team name is "Kristin's Birthday," she said laughing. "We basically have a close-knit group of friends. We all met randomly through soccer. This is a lot of fun, I would definitely do it again."

Her friend, Keith Mar, didn't have much to say until we asked him what the best of the day was for him.

"Hooters girls," he said adamantly.

Ryan Altick on the other hand was there for a different reason. He had something to prove.

"We just wanted to come out here, have a good time and prove that we have some athletic ability left in our old bodies," he said.

Referee Michael Singletary said the teams got serious, despite the distraction.

"Of course, we have the Hooters girls out here and everybody's letting their hair down, having a good time, but for the most part the games have been competitive," referee Michael Singletary said.
For more on VAVi, visit govavi.com.