The Padres' brightest star has agreed to a contract extension that will keep him in brown and gold for a long, long time.
Fernando Tatis Jr. and the Padres agreed to a 14-year extension worth $340 million, according to multiple reports.
At just 22 years old, Tatis Jr. joins teammate Manny Machado in the $300 million contract club.
Machado took to Instagram to congratulate his buddy on his new deal.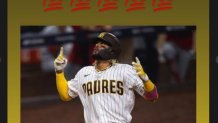 Tatis wasn't scheduled to become a free agent until after the 2024 season, but the team and its star were motivated to strike a long term deal. This contract will allow the team to keep the shortstop around through his prime. He won't be a free agent until after the 2034 season, when he is nearing 36 years old.
The third-year shortstop has landed the third richest contract in baseball history, following Mookie Betts ($365 million) and Mike Trout ($360 million).
LISTEN: With NBC 7 San Diego's Darnay Tripp and Derek Togerson behind the mic, On Friar will cover all things San Diego Padres. Interviews, analysis, behind-the-scenes...the ups, downs, and everything in between. Tap here to find On Friar wherever you listen to podcasts.